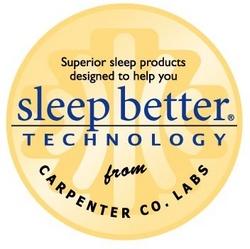 Replacing your bed pillow once a year is so easy, and individuals are often amazed at how well they feel after sleeping on a new, well-made bed pillow.
Pillow, PA (PRWEB) August 24, 2007
For 10 days in September, the townspeople of Pillow, Pa. will be tossing aside one of their most personal possessions -- their bed pillows -- for new ones as part of the Great American Sleep Better™ Project.
Residents of this central Pennsylvania bedroom community haven't given much thought to their pillows before, despite the town's name. But during the Sleep Better™ Project, they'll learn for themselves the connection between a better pillow, better sleep and a better quality of life.
The challenge comes from Carpenter Co., maker of pillows with the Sleep Better™ seal. The Great American Sleep BetterTM Project is part of Carpenter Co.'s educational campaign to teach Americans the importance of using the right pillow for getting a better night's sleep. It's also the first time an entire town has gotten new pillows on one day.
The Project will begin on Tuesday, September 4, 2007, when residents of Pillow will take their Zzzz Score™ on http://www.sleepbetter.org to learn their personal sleep profiles. The Zzzz Score™ test will recommend the type of pillow each participant in the Sleep Better Project should use, and that's the one each will receive.
They'll sleep on their new pillows for the following 10 nights, keeping a daily journal to record their impressions about the new pillows and the quality of their sleep those nights.
They will get to keep the new pillows, of course, and at the end of the 10 days, they will turn in their journals. Each Pillow resident who submits a journal will be registered to win a 10-year supply of Carpenter Co.'s pillows and mattress toppers with the Sleep Better™ seal. The winner will be selected and announced at the finale event - a town festival -- on Saturday, September 15, when residents will gather for a BBQ picnic with music, entertainment and maybe even a town pillow fight. A $12,000 donation from Carpenter Co. to the town will be presented during the festival.
Dr. Michael J, Breus, board certified sleep specialist and author of Good Night: The Sleep Doctor's 4-Week Program to Better Sleep and Better Health, says Carpenter Co.'s project is coming at a particularly good time. "As children all across the country go back to school and family sleep patterns are changing, there are some very simple and useful lessons to be learned from the example being set in Pillow, PA. Replacing your bed pillow is one of the easiest things you can do to get a more restful night's sleep."
"The effects of sleeping on an old pillow can directly impact your daily life. Irritants like headache and stuffy nose may be caused by allergens in old pillows, or improper spinal neck alignment" said Dr. Breus. "Replacing your bed pillow once a year is so easy, and individuals are often amazed at how well they feel after sleeping on a new, well-made bed pillow."
A survey sponsored by Carpenter Co. shows that although most Americans say that their pillows are very important to getting a good night's sleep, they are not very satisfied with their pillows. And most are sleeping on old pillows.*
In addition to receiving new pillows, some Pillow residents are volunteering to let scientists at Carpenter Co.'s laboratory test their old pillows for allergens such dust mites, mold and mildew. The results of the tests will be revealed at the end of the project.
Why Pillow? The town was renamed Pillow in 1965 after General Gideon Pillow, who served in the Civil War. Although Civil War buffs will tell you that there are mixed reviews of General Pillow's performance, the reviews of the town of Pillow, Pa., are only positive. Not surprisingly, Carpenter Co. has a soft spot for towns with sleep-related names, and the company fell for Pillow's "quaint look, comfortable feel, beautiful vista, and all 350 of its cordial residents," (http://www.PillowPa.org).
Carpenter Co. has been contributing to America's comfort for over 50 years in the mattress, furniture and carpet cushion industries. The company's mission is to continue to develop new products based on scientific research and development that meet their high standards as well as those of their customers and consumers. The Sleep Better™ seal was developed as a way for consumers to easily find these high-quality sleep products at their local retailers.
*Notes to the News Media
How about some Pillow talk? Participants in the Sleep Better Project will be available for interviews to talk about their experiences in sleeping on the right pillow for their individual sleep needs. Additionally, Dr. Breus, a noted authority on sleep who is frequently quoted in the news media, will be available for interviews.
The Carpenter Co. Sleep BetterTM Survey was conducted by GfKNOP of Princeton, NJ. The survey was conducted at random of 1,008 American adults. A copy of the survey's results is available by contacting Leslie Griles at leslie.griles(@)slaypr.com or 804-698-8836.
###