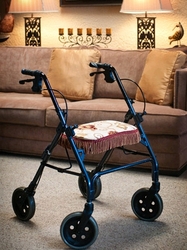 We always say, 'Life's necessities needn't be uninspiring.' Pillowalk is a cheerful reminder that there is no age limit or barrier for expressing your sense of style
Seattle, WA (PRWEB) March 24, 2011
Necessity meets comfort in personalized style. Pillowalk, innovator of fashionable walker seat cushions announces the expansion of their walker accessory line and the launch of Pillowalk.com. These custom made seat pillows provide a bit of flair along with greater comfort for those who must use walkers for mobility.
Pillowalk is the brainchild of Jeanne and Sally Ongaro, who were looking for ways to brighten up the arrival of a walker in their mother's life.
"I decided to make a pillow that fit her walker perfectly, but that had her favorite colors and fabrics incorporated, so it would not only look lovely but provide a more comfortable seat for her as well," says Jeanne Ongaro, co-founder and co-owner of Pillowalk.
Once others saw the new walker seat cushion, orders began streaming in to Jeanne and Sally Ongaro. Those with loved ones that used walkers or similar type of mobility aid saw the way a small dose of color or a bright fabric could make a big difference in the mood of those using a walker.
"The response has been amazing, people have been thrilled to find such a personal and thoughtful gift to give their loved one," points out Sally.
Many people today search high and low for gift ideas for grandparents or loved ones that are in care facilities. Finding something useful can be difficult, and it is often impractical to keep anything valuable at these facilities. That's where Pillowalk fills a very important role—providing a product that is affordable and practical, yet stylish and personal.
"We always say, 'Life's necessities needn't be uninspiring.' Pillowalk is a cheerful reminder that there is no age limit or barrier for expressing your sense of style. That's why these mobility aid accessories are a perfect gift," adds Jeanne.
Pillowalk has an ever-expanding line of walker seat cushions in a wide range of fabrics and styles. Customers can find timeless and traditional patterns as well as vibrant and vivacious color combinations to make this gift truly personalized.
Those looking for gift ideas for grandparents or other loved ones that use a walker can browse the complete collection at Pillowalk.com.
About Pillowalk:
Pillowalk operates out of Seattle, WA, under partners and sisters-in-law Jeanne and Sally Ongaro. All cushions are handmade and exclusively designed by Pillowalk. Inspired by their own experience with their mother's loss of mobility and use of a walker, the sisters created the first walker seat cushion to brighten her daily life. Once others noticed the pillow, they began soliciting Sally and Jeanne to create something special for their loved ones. When they realized that there was no comparable product on the market, the Ongaros decided to make more and offer for sale online. Read more about their inspiring story. Jeanne and Sally agree that it is a pleasure to help bring a little cheer to those that use walkers and to help family and friends of those who use mobility aids give a personal and thoughtful gift.
# # #