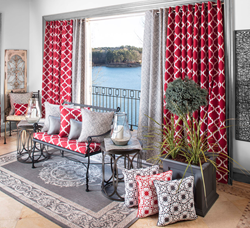 "Our design team has curated a collection of coordinating pillows, cushions, market umbrellas, and outdoor drapery panels to help homeowners put together a designer look."
Woodstock, GA (PRWEB) March 22, 2017
Pillow Perfect, a manufacturer of indoor and outdoor pillows, cushions, and related home décor items, is excited to announce the launch of the company's 2017 Outdoor Product line. The new collection of outdoor furniture cushions, decorative pillows, market umbrellas, and outdoor drapery panels features new patterns and colors that will make customers' patios and pool decks the envy of the neighborhood. The items are currently available for purchase direct from Pillow Perfect at http://www.PillowPerfect.com.
"From Addie Egg Yolk, a crisp white paisley pattern swirling across yellow fabric, to NuNu Geo Ink Blue's interlocking blue trellises on a white background, our new collection, coupled with our existing products, makes creating a perfect outdoor oasis around your personal style easier than ever," said Diane Greber, Vice President of Product Design. "Our design team has curated a collection of coordinating pillows, cushions, market umbrellas, and outdoor drapery panels to help homeowners put together a designer look."
Pillow Perfect's pillows and replacement cushions are a great fit for full-sun areas, because they resist intense sun exposure and the elements. Rated for 700 hours, outdoor fabrics are resistant to shrinkage, easy to clean and don't wrinkle. Pillow Perfect's outdoor fabrics are designed and manufactured to maintain printing and patterns, and hold up to outdoor elements.
About Pillow Perfect
Pillow Perfect has been designing and manufacturing both indoor and outdoor decorative pillows and replacement cushions in Woodstock, GA for over 25 years. The company is focused on not only delivering quality products to customers, but on also providing design-inspired style and color to homes, patios, and pool decks across the United States. The company's talented designers are devoted to staying on top of the latest trends and newest colors. Pillow Perfect's products can also be purchased through Amazon, Overstock, Wayfair, and other online home décor merchants.