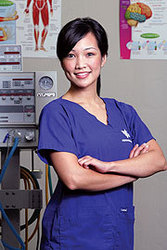 Our campus really pulled together as a team to make these amazing accomplishments
Mesa, AZ (PRWEB) April 19, 2010
Respiratory therapist school, Pima Medical Institute in Mesa, which offers respiratory therapy career training and several other health care-related career training programs, raised more than $16,000 for the American Lung Association in efforts surrounding the Phoenix Asthma Walk. The annual fundraising walk took place on Saturday, April 10, at the Scottsdale Civic Center Mall.
More than 125 Pima students and staff, including students who are attending the respiratory therapist school, participated in a 5k walk and enjoyed a pancake breakfast following the walk.
The American Lung Association is an organization that is close to the hearts of respiratory therapy school students, since the students are dedicating their lives to helping other breathe easier. However, the entire Pima Medical Institute Mesa campus pulled together to help make the fundraising efforts a success.
"Our campus really pulled together as a team to make these amazing accomplishments," said Alan Crawford, RRT-NPS, respiratory therapy instructor who headed up the fundraising efforts. "We have energetic and creative students with a very supportive staff to back them. The student body - not just one program, but the entire campus -really worked hard to earn the money we did."
In addition to donations collected by the walkers themselves, the campus hosted a rummage sale and went into the community to request team sponsorships from local businesses.
About Pima Medical Institute
Established in Tucson in 1972, Pima Medical Institute (PMI) is one of the premier medical career colleges in the western United States. PMI is a privately owned, accredited school dedicated to providing students with a well-rounded education that offers theoretical classroom studies coupled with real world training on-site at medical facilities. Pima offers a wide range of certificate and associate's degree programs, such as medical assistant, radiography, veterinary assistant and pharmacy technician.
PMI operates a total of 11 campuses in seven western states, with locations in Albuquerque; Tucson and Mesa, Ariz.; Denver and Colorado Springs, Colo.; Seattle and Renton, Wash.; Las Vegas; Houston; and Chula Vista, Calif. For more information and a complete list of programs offered at each of our campuses, visit PMI.edu or call 1-888-442-5998.
# # #