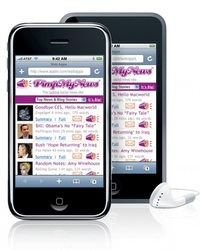 We're excited to provide yet another option that empowers people to get current on their favorite news and blogs by listening to them anytime, anywhere. Being selected as a
San Francisco, CA (PRWEB) January 16, 2008
Web 2.0 startup PimpMyNews.com announced today at Macworld the debut of the world's first "talking social news application" designed specifically for iPhones and iPod touch devices. The application has received Apple's prestigious "Staff Pick" designation and can now be accessed from any iPhone or iPod touch at http://www.PimpMyNews.com/m or through Apple's web app directory.
The PimpMyNews web app features key functionality from the PimpMyNews full site, which launched in December at http://www.PimpMyNews.com. The web app scours the Internet for breaking text stories from the most popular news and blog sites and converts them to near-human sounding audio that users of iPhones, iPod touch devices and other mobile devices can listen to wherever they happen to be. Users can also share audio versions of stories with friends, or post them to other social sites including Facebook, Digg, Del.icio.us, StumbleUpon, Reddit, Mixx and more.
Since the December launch of the core PimpMyNews offering, the company reports that visitors from 99 countries have flocked to http://www.PimpMyNews.com to listen to audio versions of breaking news stories from the web's top 1,000 text news and blog sites on their computers, iPhones, iPods, Zunes and other devices.
PimpMyNews users who sign up for the free service on the main site can create a "personalized talking newspaper" by selecting their favorite text news and blog sources from 59 unique categories, including Technology, Entertainment, Sports, Politics, Colleges, Business and more. Users can listen online or on-the-go by creating a personalized news podcast that is continuously updated with fresh content from their favorite sources. The site has over 200,000 talking stories online, adds more than 4,000 new stories per day and was recently selected as "The Cool Site of the Day".
"We're excited to provide yet another option that empowers people to get current on their favorite news and blogs by listening to them anytime, anywhere. Being selected as a "Staff Pick" by Apple is further validation that PimpMyNews provides meaningful value to users everywhere," said PimpMyNews Co-Founder & CEO John Atkinson
PimpMyNews will be demonstrating the new iPhone web app at Macworld in San Francisco this week. Members of the press can schedule a demo by emailing Press@PimpMyNews.com
About PimpMyNews
PimpMyNews scours the web 24/7 for text news and blog posts that you like and converts them to MP3's that you listen to (vs. R-E-A-D) on your iPod, iPhone or PC -- anytime, anywhere.
-Stay current on the news and blogs you care about
-Save time - your favorite stories come to you
-Listen online or on-the-go - in the car, at the gym - anywhere
-Express Yourself - share and rate stories, create playlists and more
###