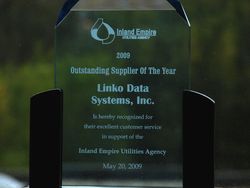 Linko Data Systems outstanding customer service, training and continued support is to be commended
Wheat Ridge, CO (PRWEB) October 28, 2009
Linko Data Systems, Inc. ("Linko"), the leader in Pretreatment Information Management Systems (PIMS) and Fats, Oil and Grease Software, has been selected as supplier of the year by, Inland Empire Utilities Agency ("IEUA").
Linko was recommended by the Agency's Pretreatment & Source Control Department based upon installation of Linko's Pretreatment Information Management System (PIMS). The new software tracks permit compliance, laboratory data, and ensures enforcement action is both timely and accurate. Access to the letter of recognition is available by selecting: Award Winning PIMS
"The LinkoCTS-SQL software results in significant efficiencies for the Agency, as the software automatically identifies violations that are both time-consuming and difficult to identify manually," stated IEUA Board President Terry Catlin. "The increased efficiency achieved through this software installation has been a tremendous benefit to the agency," continued Catlin.
During the Agency's January 2009 Audit, the Environmental Protection Agency's (EPA) contractors were impressed by the software and its capabilities. "Linko Data Systems outstanding customer service, training and continued support is to be commended," said Catlin.
"Linko is honored to be selected from all the vendors serving the utility for this award. Knowing LinkoCTS-SQL saved this utility significant amounts of time, while impressing their EPA auditors, makes us proud to be of service," stated Linko's Director of Marketing and Sales Skip Feeney.
Linko Data Systems, Inc. is the leading supplier of industrial pretreatment and Fats, Oil and Grease program management software and data management services. Since 1996 Linko has exclusively served the municipal source control market. Linko hires staff with direct experience in wastewater, pretreatment, fats, oil and grease control, software development and customer service. Linko's success stems from easy to use software, accurate, timely customer support and experience gained from an industry leading 330 software implementations.
IEUA is a municipal water district which distributes imported water from the Metropolitan Water District of Southern California, and provides municipal/industrial wastewater collection and treatment services to more than 850,000 people within a 242-square mile area in the western portion of San Bernardino County.
For more information contact Sondra Elrod at (909) 993-1747 with Inland Empire Utilities Agency or Skip Feeney at (877) 546-5699.
###