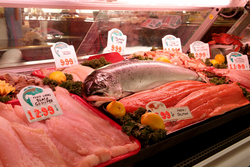 "There is no reason to believe that any contaminated product has made its way to the market." Food & Drug Administration
Bonita Springs, FL (PRWEB) June 23, 2010
Grant Phelan relies on the open waters for his livelihood, namely the Gulf of Mexico. As Director of Operations for Pinchers Crab Shack, a 7 location seafood chain family-owned in Southwest Florida, the gravity of the oil spill is fully realized. However, he's not jumping on the claim bandwagon. He's trying to make sure the Gulf Coast and all her potential visitors know Southwest Florida is just fine.
The Gulf Oil Spill is a national tragedy that has caused great concern for the regional seafood industry and Gulf Coast economy. The lives that were lost during the accident on April 20th will not be forgotten and our environment will take time to heal.
However, according to Phelan, the misconception that all Gulf seafood is contaminated and our area beaches are damaged is false and an even larger detriment to the area.
The truth is, much of the fishing being done in the Gulf by Southwest Florida fishermen is still going strong. As part owner in Island Crab Company on Pine Island, Florida (a seafood wholesaler and importer from around the world), Phelan reports, with Co-Owner Jeff Haugland, that "this is one of the best seasons in the last five for fishing and crabbing". Moreover, what's going to market is safe.
Michael Herndon of the Food and Drug Administration recently wrote, "The FDA is closely monitoring the developing situation in the Gulf Coast region to help ensure that seafood potentially impacted by the oil spill is not making its way into commerce. Fish and shellfish harvested from areas unaffected by the closures are considered safe to eat. There is no reason to believe that any contaminated product has made its way to the market."
Direct commentary from Grant Phelan:
"There is no question that the Gulf of Mexico is in crisis and there are going to be widespread ripple effects, but we must take note of the scale of damage in proportion to the Gulf and ocean waters as a whole. Thus far the vast majority of the Gulf fishing region remains unaffected and the fish, shrimp and crab industry that is so important continues to provide quality seafood to Southwest Florida.
Businesses on the beaches including hotels, fishing boats and tour operators depend on the health of the environment and tourism, as well as local consumers for their livelihood. It's critical that we understand the beaches and waters of Southwest Florida are some of the finest in the country – and remain that way even now.
As the largest purveyor of seafood in the area and one of the largest in the country, I have a responsibility to ensure the seafood we serve our local customers and those elsewhere, is safe. We have served over a million pounds of stone crabs in the last 13 years and sell 400,000 pounds of grouper annually. With 40 boats out fishing for us every day, we're on the forefront of this issue. The safety of our customers is as important as the safety of our families and children who also consume our food. We're committed to only selling the freshest – and safest – seafood around.
The Gulf Coast region, specifically Southwest Florida has suffered greatly over the last 18 to 24 months, but by banning together, we can ensure a stronger local economy for tomorrow."
As Louisiana Governor Bobby Jindal recently wrote, the seafood industry is a large economic driver for the Gulf Coast as well as a "crucial tourist draw". It's imperative that local communities band together, and support each other and area businesses during this time.
It's important that the already depressed Gulf Coast region doesn't suffer anymore. If this misunderstanding is left alone it will only hurt more local businesses and restaurants.
About Pinchers Crab Shack
Pinchers Crab Shack is a family owned and operated restaurant chain reaching from Sarasota to south Naples. In business for over 10 years, they pride themselves on freshness even adapting the motto "You can't fake fresh." For more information on Pinchers Crab Shack or one of their seven locations throughout Southwest Florida, please visit their website or their Facebook page.
Please Note: Once this great tragedy is contained, there will be the inevitable need to help those that have been affected. Pinchers Crab Shack will be working to raise funds for Gulf relief charities that help our northern co-fishermen put their lives and environment back together.
###