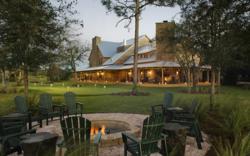 In addition to expanding our luxury real estate options, we have greatly improved the world-class hunting and shooting experience.
West Palm Beach, FL (PRWEB) December 14, 2012
Palm Beach Developer Stephen E. Myers, a pioneer in the cable television industry and avid hunter and fly fisherman, has introduced an array of new real estate options and amenities at his members-only champion wing and clay shooting club, Pine Creek Sporting Club. Recent investments include an expanded bird hunting operation on the 2,400+ acre property, a final phase of "Hammock Cabins," additional bike trails, a new Executive Chef, two stunning ranch estates, and a second sporting clays course designed by World Champion Steve Middleditch. Members now enjoy a well-appointed lodge, a resort-style pool complex, fitness center, and dog park. For more information on Pine Creek Sporting Club or to tour the property, call John Reynolds at 561-346-9365 or http://pinecreeksportingclub.com.
"The last 12 months have been exceptionally busy for us at Pine Creek," said Myers. "In addition to expanding our luxury real estate options, we have greatly improved the world-class hunting and shooting experience."
Pine Creek's new Roger Janssen-designed "Hammock Cabins" offer two different options. The "Side By Side" cabins are 3 BR /3 BA with two covered porches and a total square footage of 3,025 starting at $695,000. The "Over/Under" cabins are 3 BR /3 BA with two covered porches and a total square footage of 3,526, starting at $775,000. Interior Designers Rod Mickley and Marc Michaels chose to incorporate a warm, rich and vibrant color scheme in the design of the "Side By Side" and a fresh, light and airy color scheme in the "Over/Under" model. Both designs offer enhanced features including dual master suites with walk-in closets, a spacious mudroom, a gun safe and a screened-in outdoor living area that contains a summer kitchen, outdoor fireplace and a large dining space. The cabins reflect the village's surroundings, including its pristine landscape, a glistening lake, and natural wildlife.
"The Hammock Cabins are a great option for members who want the benefits of a sporting and ranching lifestyle without any maintenance," said Pine Creek Sales Director John Reynolds. "The cabins come complete with vaulted beamed ceilings, hardwood floors, European cabinetry, luxury appliances and over-sized porches and are within walking distance of the lodge and sporting amenities."
The new ranches include an elegant 4 BR/5 BA property with panoramic lakeside views, two lofts, a covered three-car garage, front and rear porches, and 40 acres of pristine wilderness. Myers is also constructing an impeccable 4 BR/4.5 BA, 44.8-acre estate with 18'-6" beam ceilings, double-sided river rock fireplace, state-of-the art designer kitchen and custom hardwood cabinetry with French limestone counter tops.
Myers and his team initiated a quail field reclamation project last summer that significantly enhanced the pheasant and Florida quail hunting experience by creating additional cover blocks for the birds and burning 50% of the fields to remove the underbrush and stimulate new growth. The new sporting clays course features 26 shooting stations with varying degrees of difficulty.
"In addition to the improvements made to the sporting amenities, we are very excited about our new Horse Wrangler and the exceptional cuisine being prepared by our Executive Chef," said Reynolds. "The pool complex, nature center, zip line, dog park and fitness center continue to offer great family fun, as well."
Please contact John Reynolds for membership information: (561) 346-9365 or jreynolds@pinecreeksportingclub.com.
About Pine Creek Sporting Club:
Pine Creek Sporting Club is an exclusive wing and clay shooting club that spans over 2,400 acres of pristine Florida ranchland. The Club consists of residential offerings ranging from 40-acre ranches to idyllic cabins that perfectly complement the natural beauty surrounding them. A rustic Members Lodge overlooks a scenic lake, where families come together and enjoy exquisite cuisine in a private setting. Pine Creek boasts world-class quail fields, a designer sporting clays course, five-stand and trap shooting, horseback riding, and miles of nature trails. Founding members include Stephen Myers, Stephen Myers Jr., Jack Nicklaus, Nick Price, Tucker Frederickson and Tullio Fabbri.