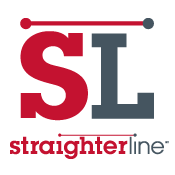 "Together, we can give future Pine Manor students a lower cost pathway to college," says Burck Smith, StraighterLine CEO. "With student debt at an all-time high, this should be comforting for students and parents alike."
Baltimore, MD (PRWEB) April 25, 2013
StraighterLine (StraighterLine.com) announced today that Pine Manor College (pmc.edu/) has joined their continually expanding network of partner colleges and universities. Pine Manor College's commitment to educating and empowering a diverse student body fits perfectly into StraighterLine's partner school network, which includes many other schools that are devoted to serving underrepresented student populations.
Pine Manor College and StraighterLine make ideal partners because they are both committed to incorporating career and professional goals within a rigorous education that is accessible to students from all economic backgrounds. PMC is one of the most affordable private colleges in the country offering generous grant and loan options. Internships are required at Pine Manor College, better preparing students for careers and encouraging them to become leaders in their communities.
The new partnership between Pine Manor College and StraighterLine offers even more students the opportunity to get a quality education online, at their convenience, at a substantially lower cost than most traditional degree programs. Students can take freshman and introductory-level classes through StraighterLine and save thousands of dollars on the cost of their college degree. With StraighterLine's affordable subscription pricing plan, students can save up to 90% on their first year of college and can move through the material as quickly or slowly as they like. StraighterLine offers entry-level college courses online in Business, English, Humanities, Math, Science and Foreign Languages, as well as College Prep. In addition, StraighterLine offers a wide variety of CBEs (credit-by-examination) that allow students to earn college credit based on test scores.
"As Pine Manor College enters its second century of educating students, we are excited to partner with such an innovative organization. StraighterLine's cutting edge, cost-effective delivery method for college-level courses is closely aligned with our mission of educating and empowering a diverse student body to become accomplished, reflective, and confident leaders – one student at a time. Our partnership will also provide underrepresented student populations greater access to higher education previously not possible through traditional education platforms. Collaborating with StraighterLine yields a social justice benefit that Pine Manor College is proud to contribute to society and our students," says Stephen H. Lyons, Dean of Enrollment Management.
"Together, we can give future Pine Manor students a lower cost pathway to college," says Burck Smith, StraighterLine CEO. "With student debt at an all-time high, this should be comforting for students and parents alike."
About Pine Manor College:
Pine Manor College is a student-centered liberal arts college located in Chestnut Hill, MA, that awards the Bachelor of Arts Degree to women and the Associate of Arts degree to both women and men. For over 100 years, the institution has prepared students for success by embedding career and professional goals in a rigorous, experiential, liberal arts education. Internships are program requirements and this differentiates PMC from other liberal art institutions. Psychology, Biology, Management and Organization Change, Social and Political Systems and Communications are the most popular programs of study.
Pine Manor College is a global community with 23% international students and has been ranked # 1 by U.S. News and World Report for Campus Diversity. This wealth of diversity promotes multiculturalism, social responsibility and collaborative leadership in an inclusive learning environment both in and out of the classroom. Located just 5 miles outside of downtown Boston; our beautiful, safe and secure campus is the best of both worlds.
Students enjoy a supportive learning environment with a 10-to-1 student to faculty ratio. Pine Manor Colleges features a Learning Resource Center that assists students with general tutoring as well as assistance for students with different learning styles. Our innovative Enhanced Foundation Program is designed to enable domestic English Language learners achieve success at the college level.
About StraighterLine
StraighterLine has been recognized as a revolutionizing force in lowering the cost of college education by major news organizations and the U.S. Chamber of Commerce for offering students online courses that earn real college credit for just $99 a month. Inside Higher Ed recognized StraighterLine for offering the "...lowest-cost set of credit-bearing courses on the Internet." And Fast Company named StraighterLine one of the "10 Most Innovative Companies in Education."
In order to facilitate the award of credit, StraighterLine has forged partnerships with leading accredited online colleges and universities. A student ultimately earns a degree from those institutions but realizes tremendous savings and convenience by starting with StraighterLine.
StraighterLine's courses are evaluated and recommended by the American Council on Education's College Credit Recommendation Service (ACE CREDIT), which includes over 1,800 participating colleges and universities. In addition to the institutions with which StraighterLine has a direct relationship, more than 350 other schools are reported to have accepted StraighterLine coursework for transfer credit.
Currently, StraighterLine offers entry-level college courses online in the Sciences, Humanities, English, Math, Business and Language. Many StraighterLine courses are now offered in both self-paced and professor-led formats. 5 StraighterLine courses have been approved by The College Board to be listed as AP courses. As a pioneer in the movement to revolutionize college for America, StraighterLine also offers alternatives to college courses including Prior Learning Assessments and credit-by-examinations that let students earn college credit for knowledge and life experiences they already possess.
For information, visit StraighterLine.com or call 1-877-str8erline (1-877-787-8375).
###