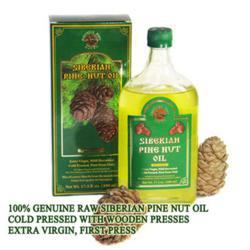 Pine nut oil has a healing effect, meets a favorable reaction with patients and can be applied to the treatment of digestive disorders
New York, NY (PRWEB) April 02, 2013
PineNutOil.org emphasizes that pine nut oil is a natural treatment for gastritis in light of the upcoming St. Louis healthcare seminar and discussion on "Digestive Imbalances," being held on April 13, 2013 at Preventive Medicine.
The upcoming seminar hosted by Preventative Medicine will be discussing digestive imbalances in the human body. Gastritis is one of the digestive imbalances which can be caused by internal ailments and daily nutrition. Many people are affected by gastritis, as it is a common condition involving the swelling of the stomach lining. Gastritis can vary from mild to chronic depending on its severity. The disease and variety of treatment options are often discussed regarding how to cure such stomach conditions.
PineNutOil.org's studies list many of the natural healing elements within pine nut oil that supply the user with nutrients. The studies discussed give details regarding the nutrition and medical value to a daily regimen of pine nut oil for those that are suffering from digestive imbalances such as gastritis, thus reinforcing the use of pine nut oil as a treatment for gastritis.
According to the Pine Nut Oil website, the recommended daily dose for the use of the oil has been submitted by A.N. Litvintsev, the Head of the Department of Food and Hygiene at the Irkutsk Medical University. In the case of chronic gastritis with increased sections of gastritis juice, hydrochloric acid and pepsin, the recommended treatment is 25 to 30 grams to be consumed approximately 30 minutes before eating at of the three meals of the day.
Clinical tests of pine nut oil have been conducted on patients at the Tomsk Scientific Research Institute of Balneotherapy and Physiotherapy. In conclusion of the testing as recommended by E.I. Filchenko, M.D., S.V. Nizkodubova, D.M.S., V.I. Karpitsky, M.D. and A.G. Petrenko, M.D.1, "one may conclude that pine nut oil has a healing effect, meets a favorable reaction with patients and can be applied to the treatment of digestive disorders. It is especially effective in curing erosive stomach and duodenal ulcers. During the remission stage one can apply phonophoresis of pine nut oil to the projection area of the pathological process for a full and lasting healing effect. When diluted with milk, the pine nut oil has an anti-inflammation effect in treating cholecystitis and hepatocholecystitis."
Pine nut oil contains a large amount of polyunsaturated fatty acids, including a substantial quantity of fat-dissolving vitamins E and F, which are known for their high level of physiological and anti-acidic components. The oil contains phosphatidic phosphorous, vital to bodily health, and is a rich source of crucially important micro-elements: phosphorous, calcium, magnesium, manganese, copper, zinc, cobalt and iodine. Pine oil contains up to 5% nitrogenous substances, of which 90% are amino acids, 70% of them indispensable acids — all of which testifies to its high physiological value.
Siberian pine nut oil uses an old technology to produce a product that is still just as useful in modern times. It is made according to the original technology of cold-pressing. The oil is a transparent liquid with the color of golden straw, a delicate nutty taste and a characteristic aroma. The oil is obtained by the cold pressing of selected shelled kernels. Siberian pine nut oil obtained in this manner is packed only in a glass container. The produced oil is unrefined and therefore the most valuable, since it preserves the natural fatty-acid composition of the kernel of the pine nut, tocopherols, sterols, phosphatides and other native biologically active components, which ensure an extended shelf life of the product.
For more information about Pine Nut Oil, inquiries or purchases visit http://www.pinenutoil.org, email info(at)PineNutOil(dot)org or call 248-218-0888.
About Siberian Pine Nut Oil:
The Siberian Pines Company has been a leading producer and supplier of Siberian pine nut oil since 2003. Siberian Pines produces high quality 100% cold-pressed pine nut oil and supplies it worldwide. They maintain the highest quality product and service by managing the process from the collection of Siberian pine nuts, to the production of the oil and delivering it to your front door.