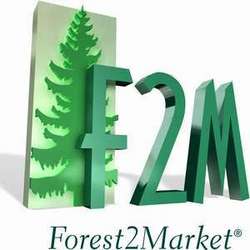 Our data reflects more than two-thirds of all raw materials crossing the mill gate in the South, or about 180 million tons reported in more than 7 million transactions each year. At the end of 2Q2010, this data suggests that supply and demand for pine fiber are relatively balanced
Charlotte, NC (Vocus) August 2, 2010
Forest2Market announces Southwide results from its 2Q2010 Delivered Price Benchmark Service. Second quarter price and volume trends point to continued weakness in pulpwood and sawtimber markets.
Pine Pulpwood
Pine purchases by pulp and paper mills in the South remained flat in the second quarter. Pine pulpwood volume was just under first quarter purchase volume, while primary or chip mill chip volume fell 9.5 percent and secondary or mill residual chip volume increased by 15 percent. For all pine fiber, purchased volume declined just 0.23 percent.
Pine fiber prices fell $2.26/ton on a weighted average basis across the South. Multiple factors led to this drop. First, dryer weather increased log supply. Pulpwood costs direct to mills and through chip mills fell as a result. In addition, higher sawmill production at the beginning of the quarter increased the supply of mill residues or secondary chips. Pulp and paper mills substituted this cheaper material for higher priced primary chips. Prices ended the quarter just above $36/ton.
Inventories also played a part. According to Daniel Stuber, Forest2Market's Director of Operations, "Inventory levels fell through the third and fourth quarters of 2009 and the first quarter of 2010, causing the spike in prices from September 2009 through March 2010. In 2Q2010, inventory was restored to its 2Q2009 level, and as that happened, prices began to drop."
"Our data reflects more than two-thirds of all raw materials crossing the mill gate in the South, or about 180 million tons reported in more than 7 million transactions each year. At the end of 2Q2010, this data suggests that supply and demand for pine fiber are relatively balanced," said Stuber. "If this continues into next quarter, prices should flatten. Though there is a chance that prices will fall back to the $34/ton range, seasonal inventory building through the fall should help prices stay at this $36/ton level."
Hardwood Pulpwood
Hardwood fiber purchases increased by more than 9 percent in the second quarter across the South as mills built inventory. The weighted average delivered price for hardwood fiber fell $2.34/ton.
"Inventories have decreased steeply since 3Q2009, and that continued through the first quarter," said Stuber. "So even though hardwood purchases were up 9 percent, this was primarily a move to build inventory after winter log shortages. At the same time, mill's cut hardwood production. Frankly, it doesn't look like production will increase anytime soon, since inventories have returned to year-ago levels. As a result, we expect prices will continue to fall."
"We may see more inventory builds in fall due to seasonality," said Stuber. "We may even see mills build inventory above their usual fall levels over concern that wet weather could once again restrict supply. If this occurs, it will stymie the fall in prices."
Purchases of all classes of hardwood fiber increased during the quarter, with pulpwood up nearly 7 percent, primary chips up 9.5 percent and secondary chips up more than 20 percent. Prices ended the quarter near $41/ton; primary chips fell nearly $1/ton, but pulpwood prices accounted for the largest portion of price declines.
Pine Sawtimber
Pine sawtimber inventories at mills dropped in the first quarter of 2010, despite heightened lumber demand. As a result of this imbalance, prices climbed through April 2010. Virtually all of 2Q2010's price increase came in April, an increase of just over $1/ton to $44/ton. Since then, mills have replenished their inventories and cut production, causing prices to level off.
"Now that inventory is back to its second half 2009 level and high demand for lumber has dissipated,'' said Stuber, ''mills have been cutting production. We expect to see prices drop through the middle of September. Though we may see a little upward movement in price due to seasonal buying in the fall, overall the trend looks like it will be downward."
The purchased volume of pine sawtimber was nearly 10 percent higher than first quarter's volume.
About Forest2Market
Forest2Market®, Inc. provides market price information and supply chain expertise as well as a variety of consulting services for those operating in the wood fiber supply chain in the South and Pacific Northwest. Forest2Market offers a comprehensive product line to help its clients better understand their competitive position and provides the factual foundation they need to make operational and strategic decisions. http://www.forest2market.com.
Contact:
Suz-Anne Kinney
(704) 540-1440 ext. 21
###