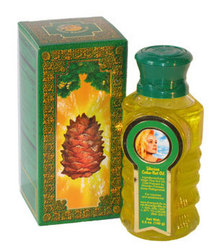 complete restoration of such parameters as emotional reactions, energy levels, and physical abilities
New York, NY (PRWEB) January 8, 2009
RingingCedarsofRussia.org released research this month demonstrating why the cold pressed oil of Siberian Cedar nuts also known as Pinus Sibirica, has been considered an ancient super food. In a clinical trial conducted by Professor A. B. Krivosheev from the City Clinical Hospital of Novosibirsk # 1 with wild harvested, cold pressed, extra virgin Siberian pine nut oil, very favorable results were found. Pine nut oil was proven effective against the real threat of modern day health problems, notably stress-related illnesses and emotional instabilities. The full version available at http://www.PineNutOil.org.
The researchers found that with an intake of Siberian pine nut oil, which remained biologically active because it was cold pressed (bearing the Ringing Cedars of Russia trademark), "a significant and reliable improvement" was noted in the quality of life indicators used as test-measures. They also noted that the use of this apparent super food was "especially effective in the complex treatment of erosive ulcerous lesions of the stomach." But remarkably, besides reduced inflammation of stomach mucosa and the duodenum, it also improved emotional reactions and restoration of sleep. The unique qualities which moved the Siberian pine nut oil into the super food category were attributed to its very high levels of numerous essential nutrients unique to this wild harvested Siberian pine nut.
The results showed that intake of such a concentrated super food as pine nut oil can produce a clearly "positive effect in the complex therapy of illnesses of the digestive organs" and increase the quality of life. Researchers added that there was an almost "complete restoration of such parameters as emotional reactions, energy levels, and physical abilities," with the use of this cold pressed, extra virgin pine nut oil. They did emphasize the importance of biologically active pine nut oil to obtain these unique results. The researchers used Siberian Pine Nut Oil bearing the registered Ringing Cedars of Russia trademark for this study, with consistency being one of the hallmarks of reliability in research (see: ringingcedarsofrussia.org).
Regina Jensen Ph.D.
RingingCedarsofRussia.org
Used by permission (c) CedarInfo.info
Media Contact:
Victor Rod
1-646-429-1985
###