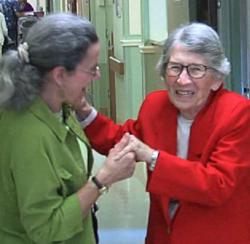 Not only is Teepa's information hands-on, but it's hands-on information that works.
Sarasota, Fl (PRWEB) December 12, 2011
A new approach to Alzheimer's/Dementia caregiving, focused on a patient's perception of his/her surroundings, is impacting audiences worldwide. Nationally renowned Dementia Care Specialist Teepa Snow, MS, OTR/L, FAOTA, and the non-profit Pines Education Institute of S.W. Florida collaborated to produce a series of five highly useful, hands-on caregiver training DVDs. Recent sales to countries like Canada, Australia, England, Germany, and Finland, in part due to DVD excerpts on the Pines' YouTube channel, speak to the necessity of instantly useful information for caregivers.
Teepa Snow, who bases her techniques on state-of-the-art brain research and over 30 yrs of experience as an Occupational Therapist, cared for two family members with dementing illnesses herself. The combination of her formal training and "been-there-done-that" skills give Teepa the credibility and experience to help caregivers with tried-and-true solutions. Her teaching style integrates facts about how dementia affects the brain and how it works, or doesn't work in the case of dementia. She is able to go in and out of character as a typical person with Alzheimer's to demonstrate common issues and problems, and to help care providers learn new ways of thinking and managing their own behaviors for better results. Her training gives the audience a first-hand understanding and experience with the disease, and important knowledge to increase understanding between patient and caregiver.
Feedback received highlights the difference Teepa's techniques make in the lives of patients and caregivers. Nina Amaral, a Nursing Home Administrator with over 30 years of experience, explained: "Not only is Teepa's information hands-on, but it's hands-on information that works." Paula Gardiner, a Memory Service Nurse at South Essex Partnership University NHS Foundation Trust in the UK, recently wrote on Teepa's Facebook page: "Just watched your video "the Art of Caregiving". Fantastic. It is the most practical, helpful and easy to digest training video on Dementia that I have seen. I have worked with people with dementia and their families for a long time and you have given me so many new ways of dealing with day to day issues, as well as ways of helping caregivers to understand how we create so many problems for people with dementia. Thank you so much."
JoAnn Westbrook, Director of Pines Education Institute of S.W. Florida, added: "With increasing numbers of professional and in-home caregivers, easily accessible education and training tools are an indispensable part of ensuring quality care for dementia patients. With so many of them requiring constant care, leaving them to attend Caregiver Training Workshops often simply isn't an option. The caregiver DVD videos, now available on Amazon.com, enable caregivers to enhance their caregiving skills on their own time - without having to leave their loved one." She adds: "The key to improving mutual understanding is to be aware of how a patient with dementia perceives their surroundings. And that's what Teepa explains so well."
About Pines Education Institute of S.W. Florida: The Pines Education Institute of S.W. Florida, the not-for-profit educational department of Pines of Sarasota, provides cutting-edge, specialized education, outreach programs, support, resources and counseling to family members and geriatric caregivers. For more information visit http://www.pinesofsarasota.org.
###