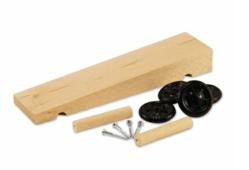 Pasadena, CA (PRWEB) August 31, 2012
S&W Crafts Manufacturing is a leading supplier of pinewood derby cars in the U.S. These wooden cars are used for racing competitions held by various youth, religious and corporate groups across the country. S&W Crafts offers a wide selection of wooden pre-cut pinewood derby cars for sale, from blocks of wood to be carved to pre-cut car kits such as the newly introduced pinewood derby wedge cut racer car kit.
S&W Crafts has always used the best quality wood and materials for our Pinewood Racers. An adult helping a child build a Pinewood Racer will really appreciate having the best and easiest materials to work with.
Pinewood derby car tracks are an essential part of any derby car race. S&W Crafts has a newly added Derby Drag Strip on their site in pinewood derby track under the Track category. Here you will find several track options to use on your race day, or for testing and tuning at home before the race. S&W Crafts also has the option to rent tracks, with or without timers for local groups, just call or email them for details.
About S&W Crafts:
S&W Crafts, Mfg. has been in business since 1957 manufacturing and selling Pinewood Derby Cars, accessories, tracks, awards and wood craft kits for children. All wood crafts and Pinewood Racers come in kit form, ready to build. Since 1957 our Pinewood Racers have used the same wheels, screws and wooden dowel axles. S&W Crafts, Mfg., supplies schools, scouts, church groups, camps and clubs and various youth organizations. S&W Crafts sends Pinewood Derby® Racers and over 50 different wood craft kits to every state in the country and even around the world.
For more information about S&W Crafts, Mfg. and its products, please contact them at 626-793-2443 or e-mail info(at)pinewoodderbycars(dot)com.