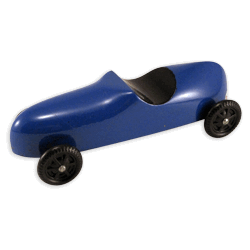 more choices for pinewood derby car weights and lubricants
Pasadena, CA (PRWEB) December 20, 2011
S&W Crafts, Mfg. has launched a new line of Tungsten products for Pinewood Derby Cars. Just in time for the Pinewood Derby Racing season, these products will aid Pinewood Racers across the country.
The new line of Tungsten products include: Tungsten Disulfide WS2 Premium Lube, Tungsten Sphere Pinewood Derby Weights and Tungsten Putty Pinewood Derby Weights. Each new product can be found on the S&W Crafts, Mfg. website: http://www.pinewoodderbycars.com.
Tungsten weights are a great way to bring a Pinewood Derby Car up to the required weight. Tungsten is a high density metal, allowing the car builder to place and concentrate the weight in just the right spot. Because of its high density, it doesn't take up much space compared to other pinewood derby weights such as: steel, lead or zinc. This allows you to design and build cars with very low profiles. Tungsten Pinewood Derby car weights are a great choice for any Pinewood Racer looking for an edge.
Tungsten Disulfide WS2 Premium Lube is an extremely fine dry lubricant that actually bonds at a molecular level the surface it's being buffed into. It will only build up to a layer of .5 microns thin, forming to the surface for the wheel and axle. It's works perfectly on both metal and plastic parts, making a good match for a Pinewood Derby Car. Tungsten Disulfide WS2 Premium Lube is an inert element and non-toxic. It also has the lowest co-efficient of drag of any other dry lubricant out there, giving it the most lubricity of any lubricant on the market for Pinewood Derby today.
S&W Crafts, Mfg. has been in business since 1957 manufacturing and selling Pinewood Derby Cars, accessories, tracks, awards and wood craft kits for children. All wood crafts and Pinewood Racers come in kits form ready to build. Since 1957 our Pinewood Racers have used the same wheels, screws and wooden dowel axles. S&W Crafts, Mfg., supplies schools, scouts, church groups, camps and clubs and various youth organizations. S&W Crafts sends Pinewood Derby® Racers and over 50 different wood craft kits to every state in the country and even around the world.
For more information about S&W Crafts, Mfg. and its products, please contact them at 626-793-2443 or e-mail info(at)pinewoodderbycars(dot)com.
###