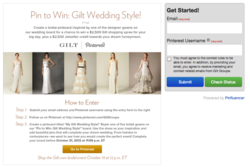 Pinfluencer tracks the full ROI of Pinterest Contests
San Mateo, CA (PRWEB) October 19, 2012
Today Pinfluencer, the leader in Discovery Marketing & Analytics for Pinterest, announced its Pinterest Promotions hosting and tracking platform allowing marketers to deploy custom branded contests and sweepstakes with significantly improved user experiences for their fans and followers. By simplifying the user experience, brands can increase entry rates and Pinterest followers, maximize viral reach on Pinterest, drive more web traffic, and grow their email marketing lists. Now, more easily than ever, brands can host promotions on a facebook tab and/or website, and start converting their facebook fans into brand advocates on Pinterest. Learn more at http://www.pinfluencer.com/promotions.
Jonathan Goldmann, Head of Social at Jetsetter.com said, "With Pinfluencer we were able to easily run a successful scavenger type contest recently and saw a 2,400% increase in Pins/Day, generating close to 4,000 pins and repins that reached over 7 million Pinterest users. Pinfluencer's Promotions dashboard, with its Omniture, Coremetrics, and Google Analytics integration, tracked not just participants and pins, but also ROI metrics like revenue and clicks and made the reporting very intuitive."
Pinfluencer's Pinterest Promotions platform offers great flexibility in promotion types, from Contests to Sweepstakes, and user experiences such as "create a board," "scavenger hunt," "repin to a board," "Pin to Win," etc. Pinterest Promotions help brands connect with their audience in unique and creative ways while addressing business goals such as customer acquisition, website traffic and revenue generation. Brands such as Gilt, Jetsetter, Ann Taylor, Birchbox, and Johnston & Murphy have been using Pinfluencer's Promotions platform to run sweepstakes, pin to win, and other types of Pinterest contests.
Sharad Verma, CEO of Pinfluencer said, "Pinterest Promotions are a great way for marketers to build engagement around new products, learn about customer preferences, drive engagement and website traffic. Our platform provides a compelling user experience for participants and presents results in one integrated dashboard. Brands, retailers, publishers, and agencies have expressed tremendous interest in the platform and are in the process of setting up sweepstakes and contests with us."
Pinfluencer is also announcing a customer success program to help brands, retailers and agencies with contest best practices. Sign up for the Pinterest Promotions Best Practices webinar at http://www.pinfluencer.com/promotions. Brands can also sign up for a free trial of Pinfluencer's Marketing and Analytics suite at http://www.pinfluencer.com and use the platform completely free during the trial. In just 2 short months after launching in August 2012, Pinfluencer is now helping over 2,000 brands, retailers, publishers, and agencies develop the marketing initiatives and analytical insights they need to engage, grow and measure their audience on Pinterest.
Pinfluencer's Promotions platform has 3 parts –
1. Hosting: Host your promotion on Facebook or use our iframe to host it on your website with an easy sign up process for your participants and custom creative to explain prize and contest rules.
2. Builder: Build you own sweepstakes or contest with custom rules from a menu of options. These include:
a. Best PinBoard (participants create a board)
b. Win by repinning from the brands's board
c. Win by pinning website content
d. Build your own contest
3. Tracker and Dashboard: Watch the increase in your number of followers, pins, repins and ROI metrics including clicks and revenue. Automatically check participant's eligibility and track them via hashtags or board names. Judge boards using the rating system and rank participants by the highest number of of pins or repins.
Product Details, Pricing Availability
To try Pinfluencer's platform, please sign up at http://www.pinfluencer.com/promotions. Pinfluencer is now offering a free, 30-day free trial for its marketing and analytics suite. To sign up, visit http://www.pinfluencer.com or contact us sales(at)pinfluencer(dot)com to request a full demo and obtain pricing.
About Us
Headquartered in Silicon Valley, Pinfluencer is the leader in the marketing and analytics for Pinterest. Pinfluencer is the first Pinterest analytics company to launch a complete marketing suite and incorporate conversion and revenue metrics. Already used by dozens of well-known retailers, brands and publishers, Pinfluencer's easy-to-use analytics engine delivers rich and intelligent metrics, actionable recommendations and competitive insights to expand product reach and engagement with Pinterest audience.
Contact Information
Media Contact: Sharad Verma, CEO, Pinfluencer, 408.594.9728. sharad(at)pinfluencer(dot)com
Industry Insight - Expert Reference
If you are a journalist looking for key facts on the retail industry, feel free to contact us for insight into industry trends.