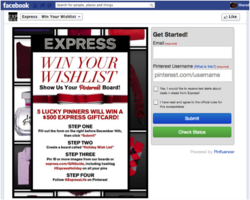 Pinfluencer Pinterest Promotion platform enables marketers to convert their facebook fans into avid pinners.
San Mateo, CA (PRWEB) December 05, 2012
Pinfluencer, the leading marketing and analytics platform for Pinterest, today announced breakthrough success metrics for Pintrest Promotions. Brands who ran their contests and sweepstakes on Pinfluencer increased their follower acquisition rate by 156% while their Pins/day jumped by 125%. Since the October, 2012 beta launch of its promotions and contests platform, Pinfluencer has hosted and tracked over 50 holiday promotions for brands such as Gilt, Jetsetter, Wayfair.com, MarthaStewart, and Shape Magazine, among others, reaching over 400,000 Pinterest users.
Pinfluencer creates a web-based platform for brands, retailers, publishers and agencies to easily create turn-key contest and sweepstakes marketing campaigns on Pinterest and boost audience engagement, site traffic and virality. The platform allows marketers to deploy custom branded contests and sweepstakes with significantly improved user experiences for the participants, resulting in higher entry rates. The dashboard also provides insights into clicks and revenue and saves marketers hours of manual work by automatically tracking user eligibility and allows them to proactively interact with the ineligible participants to maximize the success of the promotion.
Jonathan Goldmann, head of social media at Jetsetter.com said, "With Pinfluencer we were able to easily run a successful scavenger type contest that generated 7 million impressions of our Jetsetter pins on Pinterest. Pinfluencer's Promotions dashboard tracked not just participants and pins, but also ROI metrics like revenue and clicks and made the reporting very intuitive."
The Wayfair.com Pinterest contest hosted on the Pinfluencer Promotions platform showed similar significant success. According to the company, they saw a 255% increase in participants using the platform, with a 34% lift in eligible participants. The contest also drove a 27% lift in web referral traffic from Pinterest during the contest period, as compared to the three weeks prior.
"We found that using the Pinfluencer platform to run our Thanksgiving Pinterest challenge enabled us to track participation on a much deeper level," said Trisha Mack, head of social, Wayfair.com. "It is very interesting to see how many people may have started the challenge but did not finish it – something we have never been able to do before. And we were very encouraged by the sign ups we saw from using Facebook to introduce the contest."
The new Pinfluencer pinterest promotions platform offers great flexibility in promotion types, from Contests to Sweepstakes, providing such user experiences as "create a board," "scavenger hunt," "repin to a board," and "Pin to Win." Companies can host the promotions on Facebook or on their own websites, easily build a contest with custom rules from a menu of options and use the Pinfluencer tracker and dashboard to determine how a contest is performing, check participants' eligibility and track them. Finally, the platform makes it easy to judge boards and rank participants.
"Marketers can host their contests and sweepstakes on a Facebook tab powered by Pinfluencer and convert their Facebook fans into avid pinners on Pinterest. Every pin has a traffic and sales driving potential." said Sharad Verma, CEO, Pinfluencer.
To learn more about Pinfluencer Promotions, visit http://www.pinfluencer.com/promotions.
Contact Information
Media Contact: Sharad Verma, CEO, Pinfluencer, 408.594.9728. sharad(at)pinfluencer(dot)com
Industry Insight - Expert Reference
If you are a journalist looking for key facts on the retail industry, feel free to contact us for insight into industry trends.