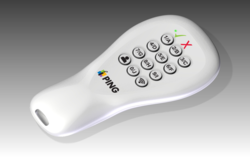 Students who participated in the testing and evaluation of Ping really enjoyed the one click entry as well as the look and feel of the new device
Scottsdale, Arizona (PRWEB) April 25, 2013
eInstruction, a global education software and technology company, has expanded its line of student response devices (clickers) with the addition of Ping, a new budget-friendly student device that can be used to gauge student comprehension and capture real-time assessment data. The new RF technology clicker features a unique, ergonomic shape for use by students of all ages.
Clickers are used by millions of students in classrooms across the globe. They help create dynamic learning environments that encourage class discussion and participation across all education settings ranging from K-12 to higher education institutions and corporate training environments.
eInstruction's newest clicker is lightweight, compact, and designed to fit comfortably in a student's hand for extended periods of time. It is equipped with a long-life lithium battery and works in a common RF environment with Pulse and Spark. The device can also be easily secured to a desk, worn around the neck with a lanyard, or transported in a small bag or backpack.
"Ping combines intelligence and design in one package," said Sandy Letterly, Product Manager at eInstruction. "Students who participated in the testing and evaluation of Ping really enjoyed the one click entry as well as the look and feel of the new device. We feel confident that educators will find it to be the best value for the features in the handset market."
Ping supports the most common question types including true-false, yes-no, and multiple-choice questions and integrates with CPS™ software for K-12 classrooms and the new Wave software for higher education in the United States and Canada. Ping can also be used internationally with Flow software in K-12 and higher education.
The new Ping clicker can be purchased in class packs or as single units through authorized eInstruction sales partners, in higher education bookstores, or by calling 866.496.4949. For more information, visit http://www.einstruction.com/srs-overview.
About eInstruction
eInstruction is a leading global education technology company committed to providing interactive teaching and learning solutions that help educators and students advance learning every day. The company offers innovative classroom instruction systems, student response systems, fixed interactive whiteboards, mobile interactive whiteboards, research-based software, and professional development solutions that facilitate significantly higher levels of collaboration, engagement, and student achievement across all stages of the learning process.
Available in 48 languages, eInstruction is enhancing education in more than 90 countries worldwide. eInstruction has global headquarters in Scottsdale, AZ and offices in Denton, TX; Fort Wright, KY; and Paris, France. Learn more at http://www.einstruction.com.