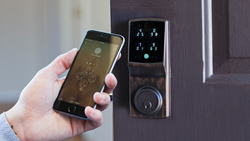 After the success of our applications, we knew we wanted to take it a step further by creating a safe, ultra-secure product. That's how we came up with the PIN
SILICON VALLEY, Calif. (PRWEB) September 20, 2016
A new startup from Silicon Valley, PIN Genie, has developed a unique smart door lock for consumers everywhere. The team's idea behind the new smart door lock stems from their highly successful smartphone applications available for Android and iOS users. The technology shortens a 10-digit passcode into just four buttons. After each use, the PIN Genie Smart Lock scrambles the numbers so no one can guess a user's unique code.
"Last week, our PIN Genie Smart Lock reached the highest level of the BHMA A156 Grade B test," PIN Genie creator Lee Zheng said. "Our purpose is to offer consumers everywhere the most secure products and applications possible. After the success of our applications, we knew we wanted to take it a step further by creating a safe, ultra-secure product. That's how we came up with the PIN Genie Smart Lock."
The PIN Genie Smart Lock offers consumers easy D.I.Y. installation, too. As the first peep-proof and hidden camera-proof door lock, PIN Genie is equipped with a patent-pending touch screen pad. For added security, PIN Genie also allows users to set temporary guest codes and assign PIN codes to family members and guests. The smart door lock also comes with an alarm where users will be notified if an attempted break-in occurs.
The PIN Genie Smart Lock also allows users three ways to unlock their door lock. Users may either type in their unique code, unlock the door via Bluetooth low energy (BLE) via their mobile phone or by using a physical key. The team also included a "Safe Home Mode" where users can disable the touchscreen. This added security means only those with a physical key can enter the house.
The PIN Genie team has turned to Kickstarter to help bring the smart lock to mass production. Their campaign jumped over $6K within the last few days, bringing their total campaign funding to over $18K. The company's price point has also been well received from backers. While most smart locks sell for hundreds of dollars, backers may purchase the PIN Genie smart lock for $111, or the PIN Genie Smart Lock Pro, which is compatible with their smartphone app, for $178. For more information on PIN Genie, visit their campaign at bit.ly/PINGenieKS.
About PIN Genie
PIN Genie Inc. is a technology startup founded in Silicon Valley in 2014. The team is comprised of experts specializing in both security software and electronic hardware developments. PIN Genie's team recently launched two security applications available for both iOS and Android users. Both applications have been well received among security experts, consumers and press. PIN Genie recently launched a crowdfunding campaign for their new PIN Genie Smart Lock, ideal for homes. For more information on PIN Genie, visit their website at http://www.pin-genie.com.