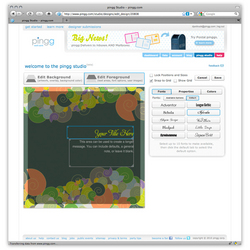 "The launch of pingg Studio allows artists to easily translate their creative work into a useful, purposeful digital product"
New York, NY (PRWEB) September 7, 2010
Now, with the launch of pingg.com's designer Studio, pingg is proud to become the first online platform to allow artists, designers and charities the opportunity to turn their artwork into online invitations & announcements in order to promote themselves and their other online stores.
With the rise of Internet based user generated content and mass customization services, artists and designers are increasingly able to leverage the Internet as a tool to promote themselves and derive revenue from their creative work—be it t-shirts on Threadless.com , mugs & posters on Zazzle or a store on Etsy.
At pingg, we believe that the viral nature of online invitations & announcements presents an amazing opportunity for artists to connect with each other and with pingg hosts from all over the globe that are ready to send millions of invitations & announcements 365 days a year. Additionally, since one invitation is sent to an average of 50 guests, the pingg designer Studio basically acts as a free viral public relations & marketing platform for designers.
The pingg designer Studio is a self-serve tool. Designers set up a profile containing a photo of themselves, a bio as well as links to other online sites they wish to promote. They are then able to upload their artwork and easily transform their art into online invitations that are stored in the pingg gallery. Designers can track how many invitations have been sent, how many guests have viewed their invite, as well as additional reporting stats.
"With over 15 million guests reviewing pinggs around the world, the pingg Design Community offers artists to tap into a popular digital market, invitations and announcements," co-founder and CEO Lorien Gabel says of pingg's new Design Community. "The launch of pingg Studio allows artists to easily translate their creative work into a useful, purposeful digital product - something companies like Threadless and Café Press have done with physical products like t-shirts."
What makes pingg different?
1. Viral Marketing: When a host sends an invite, that invitation will be viewed by an average of 50 guests, which means 50 potential new customers are viewing an artist's work per event. Additionally, pingg's Twitter and Facebook integration allows guests to then share the designs with their friends - thus continuing the viral marketing effect.
2. Recognition via Community: The pingg designers become part of a larger Design Community in which they can share ideas and gain recognition among their peers. pingg will be adding more community features in the coming months.
3. Rewards: Members of the pingg Design Community can earn extra cash through pingg's rewards program. Our weekly Staff Pick and monthly Top Designer Rewards, earn our lucky designers cash and recognition among the Design Community and pingg hosts.
About pingg:
Based in New York, pingg.com was co-founded in 2006 by brothers Lorien (Tree) Gabel and (Ami) Matt Harrop. Lorien and Matt are CEO and CTO respectively. Their third business venture together, pingg.com is a free invitation creation and event management platform that lets design conscious hosts seamlessly create, send and manage stylish invitations and event communications for personal and professional events via online and print. With stylish designs, integrated print, social networking features, customizable event web page and easy to use tools, pingg is changing the way hosts create and plan their events on the web. For more information, visit pingg.com.
###