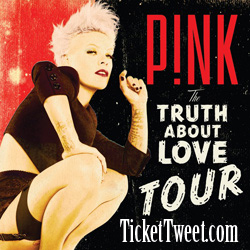 At Ticket Tweet we specialize in those hard to find close up seats for your favorite events.
(PRWEB) November 01, 2012
Pink Tour will be extended to include more countries after her North American The Truth About Love Tour. Pink, notorious for singing about how she feels in regards to her private relationships and those celebrities that drive her nuts, will be kicking off her concert tour The Truth About Love February 13, 2013 in Phoenix, AZ. The Pop-rock star Pink has announced a total of 32 shows world wide so far. The Pink Tour is expected to end in Australia. TicketTweet.com has tickets available for all shows including the hard to find Fan Packages and VIP packages. Ticket Tweet usually has Pink Tickets even when others are sold out. TicketTweet.com also has tickets available for shows in Canada, Paris, Switzerland and Australia.
After more then 12 year in her music career, Pink received her first number one for her newly released album "The Truth About Love". Pink will be promoting this album for her 2013 tour. Pink's song "Blow Me (One Last Kiss) which was performed live at the Video Music Awards, is also getting top billboard rankings which is promising to be a great concert experience.
Australian fans will especially appreciate Pink returning to their shores. Pink's Funhouse tour in 2009 became the most successful tour in Australian history. Pink played 58 sold out shows to over 670,000 fans over a three month run. Pink played at Rod Laver Arena in Melbourne a record of 17 times selling over 220,000 tickets. Fans will get another chance to witness Pink display her musical and acrobatic talents.
The Pink Concert Schedule for "The truth About Love Tour" can be found at TicketTweet.com. Some of the top cities she will be traveling to include - Atlanta, Charlotte, Columbus, Auburn Hills in Detroit, St. Paul, Montreal, and Paris.
At Ticket Tweet, you are able to pick your seats in the section you want. Pink Tickets are available today for all concerts. Also, Pink Tour ticket prices are of equal or lesser value in comparison to many top ticketing agencies. Jessie at Ticket Tweet says "If you are looking for tickets to a popular concert event, you want to be able to pick your seats and you want to get a great deal on those seats from a secure ticketing site. Ticket Tweet does that for you! Ticket Tweet is secure, reliable, and gives you the seats you want at the price you want." Lock in great Pink Tour tickets now.