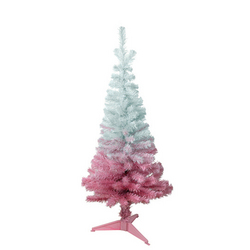 (PRWEB) December 2, 2009
Online retailer DotComGiftShop has launched a Pink Christmas Collection of gifts and decorations to add extra colour to the festive season.
With an ever-increasing number of people opting to try something new with their seasonal displays, pink has become a popular choice and it's easy to see why, given how well it complements the other traditional Christmas colours.
The handpicked range of decorations in DotComGiftShop's Pink Christmas Collection includes stylish pink Christmas trees, pink lights and pink table settings.
The tree represents the main focal point of any home's yuletide decorations and among the many to choose from at DotComGiftShop is a vignette effect Christmas tree that seamlessly fades from pink to white - as if there's been a magical winter downfall! It makes the perfect centrepiece for a pink Christmas, especially when coupled with the range of contemporary pink decorations on offer via DotComGiftShop's special collection.
Come lunchtime on 25th December, the focus moves from the tree to the dinner table, and the DotComGiftShop Pink Christmas Collection gives consumers the opportunity to add a special touch to the table display, with pink place settings, pink napkin rings and pink candleholders all available to purchase online.
And of course, as always with DotComGiftShop, there's a range of clever gift ideas, including a pink jewellery box, a pink hot water bottle and a pink Funky Monkey mug.
So this Christmas, the message from DotComGiftShop is clear: think pink!
For more information on the pink Christmas goodies available at DotComGiftShop, see http://www.dotcomgiftshop.com/blog/pink-christmas.
###