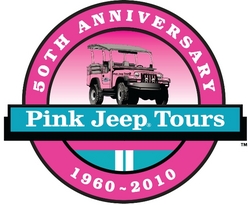 What sets us apart is not only our longevity, but our outstanding employees who continuously exceed our customer's expectations, our ongoing commitment to the community and our dedication to conservation and preservation
Sedona, AZ (Vocus) April 28, 2010
The first Jeep tour operator in the United States and one of the oldest businesses in Sedona, Pink Jeep Tours is proud to be celebrating its 50th anniversary in 2010. Pink Jeep Tours is known for its premier "must do" tours with companies located in Sedona, Arizona and Las Vegas, Nevada.
When local businessman Don Pratt took potential clients by Jeep to see back country real estate in the Sedona area, he had no idea that he was laying the foundation for what would turn into a multi-million dollar industry throughout the country.
The iconic pink Jeeps came to be after Pratt visited the Royal Hawaiian Hotel on Waikiki Beach, where everything was pink; vehicles, buildings and uniforms. The man who owned the hotel also built Willy's Jeep vehicles and Pratt simply put the two together.
Shawn Wendell purchased the business in 1988 and expanded the company to Las Vegas in 2001. "What sets us apart is not only our longevity, but our outstanding employees who continuously exceed our customer's expectations, our ongoing commitment to the community and our dedication to conservation and preservation," Wendell said.
Pink Jeep Tours' commitment to preserving the timeless beauty of Sedona has earned the company environmental preservation awards such as the Keep Sedona Beautiful Award of Excellence and the Governor's Tourism Award on Arizona Preservation.
''We are celebrating throughout the year,'' said Mike Hermen, Director of Marketing. "We are running specials through Twitter, Facebook, and our website and monthly newsletter. Fifty years is a significant milestone for any business, and we are proud of our outstanding reputation of providing excitement and education to Sedona and Las Vegas visitors."
Whether visitors are seeking rugged adventure, Native American history and culture, nature, geology, or panoramic vistas, Pink Jeep Tours has the right tour for you. Their 50 years of experience and award-winning excursions are known as the premier "must-do" tours in Sedona and Las Vegas.
Pink Jeep Tours' corporate headquarters are in Sedona, Arizona. It serves visitors from around the world with a corporate fleet of 85 vehicles and is the only Jeep tour company with guides and guide trainers certified by the National Association for Interpretation on its staff. Pink Jeep Tours -- (800) 8-SEDONA / (888) 900-4480 / http://www.pinkjeep.com
###