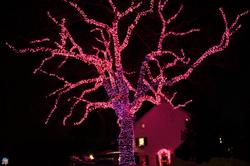 I was very interested in Diane's project because of the large number of pink light sets she bought -- it's not uncommon for us to sell very large quantities of white lights during the holiday season but when I saw this large order for pink lights I was very curious
Jackson, MI (Vocus) May 1, 2010
HolidayLEDs.com, the premier on-line retailer of LED Christmas and Holiday lighting, today announced that it would partner with Pink-Rememberance-Tree.org and assist the group in its efforts to raise awareness about the dangers of distracted driving.
Pink-Remembrance-Tree.org is a foundation dedicated to remembering loved ones who have been lost to senseless traffic accidents. The non-profit organization recently embraced decorating neighborhood and city trees with Pink LED Christmas lights as a reminder to pedestrians and drivers alike to pay attention, be careful, and to raise awareness of the dangers of distracted driving in general. Pinkremembrancetree.com was started by Dianne Anderson and Joel Feldman as a tribute to their daughter Casey. Casey Feldman was killed by a distracted driver while crossing in a cross walk in Sea Isle City, New Jersey. As Diane and Joel faced experiencing their first holiday season since the death of their daughter, the couple decided to decorate their 300 year old Sycamore tree with lights that Casey would love. The Sycamore tree was decorated with 18,000 Pink LED lights. ''Pink was Casey's favorite color and the lights represent her sparkling personality. While I originally just envisioned it for the holidays, it has remained lit and I now can't imagine coming home and not seeing it,'' said Anderson.
The partnership between PinkRemembranceTree.com and HolidayLEDs.com began because Anderson purchased the 18,000 pink LED Christmas lights from HolidayLEDs.com. "I was very interested in Diane's project because of the large number of pink light sets she bought -- it's not uncommon for us to sell very large quantities of white lights during the holiday season but when I saw this large order for pink lights I was very curious," explained Philip C. Curtis, President of HolidayLEDs.com. After the holiday season Anderson emailed Curtis photographs of the display she created with the pink lights and explained that the display was a memorial to her daughter Casey. ''Casey's story and Diane's loss touched home a bit for me because I witnessed the extreme grief my parents suffered when my brother died suddenly at a very young age,'' Curtis explained.
During the months after the 2009 holiday season, Curtis and Anderson corresponded back and forth and brainstormed a bit about how their two organizations could work together. In early April Diane notified Curtis that Sea Isle City, New Jersey had plans to decorate and dedicate its first "Pink Re Remembrance Tree" to the memory of Casey Feldman and others who have died senselessly in vehicular accidents. Curtis agreed to sell the pink LED Christmas lights to the City at cost and the partnership was born.
The Sea Isle City Pink Remembrance Tree will be dedicated on May 1, 2010, but Anderson and the rest of the PinkRemberanceTree.com hope that this event will start a movement and be only the first of many pink trees popping up around communities in the U.S.
In honor of Casey Feldman and in further support of the efforts of PinkRemembranceTree.com, HolidayLEDs.com will be offering coupons of 15% or more off pink LED Christmas lights. Interested parties should visit PinkRembranceTree.com for coupon codes and details.
For more information about HolidayLEDs.com please visit http://www.holidayleds.com .
###