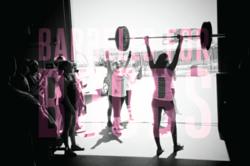 "Prevention is possible, early detection is key – don't wait until you're 40. Be aware, ask questions and get checked."
Huntington Beach, CA (PRWEB) September 12, 2012
TEN events in EIGHT host cities across THIRTY days involving THOUSANDS of athletes, survivors and passionate supporters with ONE specific purpose: to raise funds and awareness for mammograms and diagnostic services in the fight against breast cancer.
Launching on Friday September 28th and culminating on Sunday October 28th, the Pink Bra Tour is a nationwide voyage highlighting premier Barbells for Boobs fundraising events starting in Orange County, California and travelling all the way to Miami Beach, Florida. With the help of sponsors Reebok and Functional Equipment, the Pink Bra Tour is more than just a series of fundraisers; it's a collective of athletes embarking on a journey across the country to join forces with the community and raise awareness of breast cancer and the critical need for early detection services. All net proceeds from these events benefit the Mammograms In Action Grant Program, developed by Barbells for Boobs to help "fill the gap" in funding proactive breast healthcare services for anyone, anywhere, at any time in his or her life.
"The desire to do something proactive and positive for women and men in need of mammogram screenings and diagnostic procedures, is the only prerequisite," says Zionna Munoz, founder and CEO of Barbells for Boobs.
Zionna Munoz founded the organization in 2009 after her best friend was diagnosed with Stage 0 Ductal Carcinoma In Situ (DCIS) breast cancer at the age of 26. Due to her young age, there was little concern about the potential of breast cancer and she was told to come back when she was 40. The challenges she faced in accessing breast health care services and her strong survivor spirit inspired the creation of Barbells for Boobs and the Mammograms In Action Grant Program as a proactive voice and supportive resource in the fight against breast cancer.
These exciting fundraising events, hosted by select CrossFit affiliates, will feature a signature CrossFit WOD (workout of the day) called "Grace" consisting of 30 Clean & Jerks for time (a ground to overhead weightlifting movement) in the form of a fun and competitive event involving people from all levels of fitness and athletic ability. Each event will be unique in nature, but all will feature a well-known Reebok sponsored athlete, music, prizes for top finishers, and a community of passionate people working together to make a difference.
There are no fees to participate in these events, or any Barbells for Boobs events, and the Pink Bra Tour is just a sampling of the hundreds of events hosted by gyms, teams and individuals all over the world each year to support the growth of this national breast cancer organization.
"The passion and commitment of the CrossFit community is incredible and I know together we can make a difference in the breast cancer cause," says Zionna. "Prevention is possible, early detection is key – don't wait until you're 40. Be aware, ask questions and get checked."
OUR MISSION IS POSSIBLE, OUR MESSAGE IS SIMPLE: SAVE A PAIR. SAVE A LIFE.
To help fundraise, host an event or donate to Barbells for Boobs, please visit http://www.barbellsforboobs.org.
About Barbells for Boobs:
Barbells for Boobs ® is a 501(c)3 non-profit breast cancer organization with the mission to provide funding nationwide through their Mammograms In Action ® Grant Program for qualified low-income and uninsured women and men who need screening and/or diagnostic procedures in the prevention of breast cancer. Through grants to community based breast centers and breast health care providers, they provide funding for diagnostics and biopsy as prescribed by a medical doctor. For more information about Barbells for Boobs and the Mammograms In Action Grant Program, please visit http://www.barbellsforboobs.org.