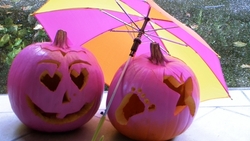 just get permission from your neighbors before you color theirs pink, too.
Lanham, MD (Vocus) October 24, 2009
What's a Pinkineer? According to Trever McGhee, "It's someone who adds pink to the world to save lives." Their motto is that of the infamous Musketeers "One for all & all for One".
Their goal with the people who join their quest around the world is to have them tell everyone they know to do a Pink Pumpkin in one form or another. Trever McGhee states, "Right now, they'll appear this Halloween all over the US, France, Germany, Ireland, Chile, England, Canada, the Bahamas and many other locations with the help of the Breast Cancer 3-Day Walkers he has met, FaceBook, Twitter, YouTube and other social media web sites.
Where will they show up and what form the pumpkins take, will be interesting to say the least while they glow with awareness.
How do you get a Pink Pumpkin? Trever notes, "A can of pink hair spray from Walmart will do the trick, or treat your pumpkin with pink feathers or a tee shirt," and he note with a laugh, "just get permission from your neighbors before you color theirs pink, too."
For those who send a picture of their creation, they'll become an honorary member of the Pinkineers for helping save lives. With Pinkineer bragging rights if their pumpkin is chosen as the best one from their area.
Trever thought of the whole concept of the Pinkineers when he walked by a pumpkin patch in Washington, DC during his 9th Breast Cancer 3-Day 60 mile walk he was on this year carrying his 12 foot banner to bring awareness.
When asked what drives a man to sign up for 15 Breast Cancer 3-Day 60 mile walks in a year while carrying a 12 foot banner, that he calls his Magic Wand, when he has never walked in one before, Trever McGhee emphasizes it's because his three year old daughter, Isis-Angellica's, Godmother was diagnosed late with Breast Cancer. When he told Isis-Angellica he couldn't make her Godmother's Breast Cancer go away and that every day would be a celebration that she is still here, she asked, "You can save me right....Daddy?" Trever remembers that in that split second, fear overcame his whole body that he may not be able to do anything for her which he never wants to experience again. The only thought he had was that he would do whatever he can to save her.
Trever's plan is to bring awareness any way he can so that we don't continue to lose someone every 68 seconds and that the resources from not having so many late diagnoses could be redirected towards working on that remaining 2% to guarantee everyone's future.
This is the first year of what Trever hopes is an annual tradition, "....that will take over the world so that every house has either a pink pumpkin or ribbon on Halloween night to honor the last day of Breast Cancer Awareness Month on 31 October and to mark the last days that Breast Cancer needlessly takes a life because of lack of awareness."
Trever McGhee's message to everyone is, "Please take 68 seconds to color your pumpkin pink, to put out a pink ribbon or just pass this information on so that someone else can participate and show their support. I'm walking 900 miles to bring awareness so you don't have to and you can use me as an example of why someone should take at least 68 seconds to help bring awareness that will save lives. Tell everyone you know! Thank You."
For more information log onto pinkineers.com
###