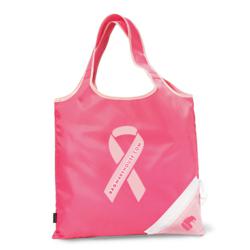 "Use promo code PINK2012 on any order for pink promotional bags, now through October 19th, to receive a $50.00 discount. Orders just need to be over $750, before sales tax and freight to qualify for the discount."
Santa Ana, CA (PRWEB) August 31, 2012
October is breast cancer awareness month and to show their support, Bag Warehouse, a local Southern California promotional bag wholesaler, has added a huge selection of pink promotional bags to their Web site.
Many organizations give away trinkets in the color pink during October to support breast cancer awareness month, but a lot of those items end up in the trash. A great item to consider instead is a pink promotional bag that can be re-used and toted around town for all to see with your company logo on it!
VP of Sales and Marketing, Alexandra Andersen, shared that, "clients can use promo code PINK2012 on any order for pink promotional bags, now through October 19th, to receive a $50.00 discount. Orders just need to be over $750, before sales tax and freight to qualify for the discount."
The Bag Warehouse Web site is not limited to pink bags though. You will find a wide variety of promotional bags, ranging from totes, to briefs, to duffels, coolers, and even some big brand names like Ogio and Cutter & Buck. There are tons of different styles, sizes, colors, and patterns to suit any budget.
Another reason to consider producing and selling or giving away, custom imprinted promotional bags was clearly shown through a recent survey by the Advertising Specialties Institute (ASI). The survey showed that customers use promotional bags more than 9 times a month, and have had their oldest promo bag for an average of over 4 years! Further results displayed the average cost-per-impression for an imprinted promo bag is only $0.002, compared to $0.033 for an ad in a national magazine, with each custom imprinted or logoed bag averaging 1,038 impressions a month.
So, now is the time to do your part in supporting a great cause while increasing brand awareness at the same time, with pink promotional bags!
Bag Warehouse is a promotional bag wholesaler that sells directly to corporate buyers, groups, organization, conference or event planners and associations. Bag Warehouse is headquartered in Santa Ana California, and maintains production facilities for imprinted or embroidered promotional bags on the East and West coasts. Bag warehouse offers custom imprinted promotional bags in the following categories: tote bags, meeting bags, brief bags, travel bags, sports related bags, and brand name bags.
For more information about Bag Warehouse visit http://www.bagwarehouse.com, email Alex(at)bagwarehouse.com or call 1.800.817.2247.