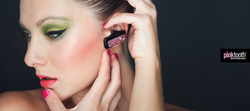 The most important feature of any electronic is its functionality, and PinkTooth definitely delivers!
San Diego, CA (Vocus) September 9, 2009
The ladies behind chicBuds designer electronics have let their imaginations and creativity loose when it comes to their new product, the PinkTooth wireless headset.
This chic new hands-free headset for cell phones as seen at http://www.chicbuds.com is made to impress by both its sleek designer appearance and its top notch functionality.
Co-owners of ChicBlvd Inc., Nikki Gutshall and Kailynn Bowling, are always on the lookout for new ways to bring style to the electronics industry. They have found their niche in the electronic accessories world and have risen to the top with their oh-so-trendy chicBuds and RockBuds headphones. Now they are experimenting with the success of Bluetooth technology and molding it into a product that is elegance and utility all rolled into one compact package.
People today are accustomed to a certain standard of individuality and customizability in the products they purchase. It can be seen in everything from purses to clothes to computers, and the demand only increases as time and technology move forward. It makes sense that the world of office gadgets is expanding to include products that are both useful and appealing to varying personalities.
PinkTooth is one of the first headsets of this nature. Sure, ordinary headsets can come in different colors and shapes, but none are as presentable and captivating as this. PinkTooth is designed for comfort, style, and quality, the three things that can make or break any product's appeal.
Comfort is a top priority in wireless headsets since they are meant to be worn for differing amounts of time depending on the job. PinkTooth as seen at http://www.chicbuds.com is lightweight, small in size and includes 3 silicon gel inner earbud sizes--XS, S, M--that fits snuggly and comfortably within the ear.
It boasts a sleek black frame that is complemented by either pink or clear crystals. While the Swarovski crystals make an impact, they do so by adding a depth of color and texture that is chic and elegant rather than gaudy or girly. Because of its small size, PinkTooth is easy to carry and stays out of the way of hair and glasses that can knock headsets loose.
"The most important feature of any electronic is its functionality, and PinkTooth definitely delivers!" The sound is amazingly clear and it is equipped for up to six hours of cell phone talk time before needing to be recharged. It also lasts up to 200 hours in standby mode.
Since the launch of their product line in 2006, chicBuds designer electronics - http://www.chicbuds.com - has seen a wide array of success. Their products have garnered interest from over 60 magazine/press features, received celebrity endorsements and the company has recently partnered with popular retailers such as Nordstrom, Dillards, Fred Meyer, Regis, online BestBuy.com, Radioshack.com for purchase of their products. chicBuds are also distributed in Japan and Australia and are sold in 10 different countries.
###