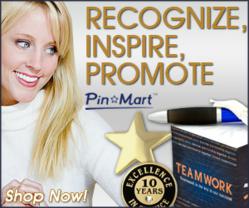 Once we discovered that our customers using coupons or participating in promotions had higher return rates and larger average order values, we immediately changed the way we market to these individuals and the promotions we offer them
Chicago, IL (PRWEB) May 30, 2013
The trend in online coupon use has changed in the past few years. The old thought process by merchants was that online coupon codes and promotion codes did little to increase sales and actually had the effect of cheapening your brand and lowering your image. New research however has shown that old thought process no longer applies. PinMart estimates that 37% of their online shoppers have used PinMart coupon codes or promotion codes found online or delivered to them via email. Of this 37%, approximately 68% have gone on to make additional purchases within the next 120 days.
PinMart, like many other leading online retailers, has discovered over the last few years that customers who use promotion codes are more likely to make future purchases and the average order values are higher than those orders not using a coupon code. This has led to a new thinking of the value of customers using coupons or promotion codes. These visitors are now thought of as the "preferred customer" and no longer a drain on profit margin.
As PinMart notes: "Once we discovered that our customers using coupons or participating in promotions had higher return rates and larger average order values, we immediately changed the way we market to these individuals and the promotions we offer them." Perhaps the most surprising information gain from this study is that the average order value (AOV) for orders using coupon codes was 17% higher than orders not using a coupon code. Conventional wisdom might suggest that when a discount in the form of a coupon code is applied to orders, the AOV would be lower. Quite the opposite appears to be happening; PinMart, like other ecommerce retailers, has realized shoppers who use promotions or coupons are their most loyal, most frequent, and are more educated about online shopping than any other customer segment.
As the e-commerce sales continue to grow, as they surely will, expect the use of coupon codes to spread just as fast. Online merchants are expected to spend in the range of 10-18% of their revenue on customer acquisition and retention. With the cost and stakes so high, most merchants will do whatever it takes to close the deal; and discounts in the form of promotions or coupon codes seem to be the new way to increase conversion.
About PinMart: PinMart, Inc. is a privately held company located in Mount Prospect Illinois, a suburb of Chicago, specializing in the design and manufacture of lapel pins, emblematic jewelry, and employee recognition and motivation items. PinMart sells stock products via its online store and offers custom design and manufacturing. PinMart has taken advantage of its well positioned internet presence and now boasts a client list that includes over 300 of the Fortune 500 companies.