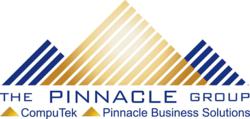 "To be recognized as one of a few organizations that can deliver this Cisco technology is quite an accomplishment and opportunity to deliver this leading-edge solution to our clients." - Michael Fedele, CEO - The Pinnacle Group
Stamford, CT (PRWEB) March 12, 2012
Michael Fedele, President and CEO of Pinnacle Business Solutions commented that he was pleased to be working with an organization like Cisco. "To be recognized as one of a few organizations that can deliver this Cisco technology is quite an accomplishment and opportunity to deliver this leading-edge solution to our clients."
As part of the foundation for the Cisco Data Center Business Advantage architectural framework, Cisco Unified Computing systems complement Cisco Unified Network Services and Cisco Unified Fabric solutions to help enable IT to run their data centers with more agility and efficiency to drive business innovation. The Cisco Unified Computing System is a next-generation data center platform that unites computing, network, storage access and virtualization into a cohesive system.
As a Cisco Advanced Unified Computing Technology Specialized Partner, Pinnacle has invested in the technology training that provides the ability to showcase its rack-mount and blade server expertise to deliver a scalable and flexible unified computing infrastructure for virtualized and cloud computing data center needs.
The Cisco Advanced Unified Computing Technology Specialization is designed to help Cisco resale channel partners support customers as they evolve and adapt their data centers to their changing business needs. The specialization provides role-based training for sales personnel, presales engineers and post sales deployment engineers.
The Cisco Resale Channel Program provides partners with the training required to build sales, design and technical talent and then validates their skills through a third-party audit.
About The Pinnacle Group
The Pinnacle Group specializes in business-focused technology solutions for mid to large organizations. Through a unique and tailored approach for each engagement, The Pinnacle Group combines a wide range of technical expertise with heavy emphasis on overall operations to create the optimal partnership of technology and operational excellence. The Pinnacle Group's corporate headquarters are located in Stamford, Connecticut with offices throughout the United States.
Cisco, Cisco Systems and the Cisco logo are registered trademarks of Cisco Systems Inc. in the United States and certain other countries.