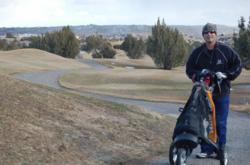 According to Mike Nordstrom, an avid local golfer, "Pinon Hills is wonderful, it has a strong design and there are no weak holes."
Farmington, N.M. (PRWEB) January 30, 2012
Pinon Hills Golf Course in Farmington, N.M. on a desert plateau at the edge of the snow -capped San Juan Mountains of Colorado, is beloved by many golf junkies. In fact, this municipal course is considered one of the best in the country. According to Mike Nordstom, an avid local golfer, "Pinion Hills is wonderful, it has a strong design and there are no weak holes." What is less well-known is that Pinon Hills is open year-round and offers some great, if challenging golf, in the winter months. Colorado golf fans have discovered this and head to Farmington as soon as the snow flies.
In this area of the Four Corners winter brings snowy nights that build a deep snow pack in the nearby mountains, often followed by bright sunny days with temperatures rising as much as 40 degrees by noon. For the bold and the fit, this provides an opportunity to ski in the morning and golf at Pinon Hills in the afternoon.
Below is a suggested itinerary for anyone up for the ski-golf day challenge. It is also a tour that will please the financially challenged. Fees at Pinon Hills and at ski slopes nearby are more than reasonable and there are affordable well-maintained motels in Farmington with rates under $100 a night.
9:00 a.m. - Get up and out and onto the La Plata Highway for a 45-mile drive heading north towards Colorado and Ski Hesperus. Hesperus is a classic, old-fashioned ski hill, a favorite with local ski buffs, snowshoeing fans and those of us happy sliding down hills on an inner tube. There are ski, snow boot and board rentals available. Hesperus has 13 downhill ski runs geared for skiers of all skills. The daily lift ticket is $ 32, $21 for children 12 and under. Tubing is $7 an hour. There is a food bar at the lodge.
1:00 p.m. - Grab an energy bar, take off the gear and head back down the road to Farmington. Turn left off La Plata Highway at Pinon Hills Blvd., drive to Butler, turn right and then left on Sunrise to Pinon Hills Golf Course. You can call ahead to book a tee time special, $35 for 18 holes including the cart, if you start before 2:50 p.m. For lunch, the course's Grill on the Hill has a full menu. (After 3 p.m. the price for a twilight round of 18 holes is $25) The weather will be brisk, but the sun shines an average of 300 days a year on this high desert course and you will be playing one the country's most acclaimed public golf courses.
5:30 p.m. - It's time to take a load off your feet. Consider a casual meal and special home-brewed beer at Three Rivers Brewery in downtown Farmington at 101 E. Main Street. It's one of the city's most popular watering holes.
Planning tips: Check the snow conditions in Hesperus and check the weather forecast for a calm and preferably sunny day. According to Nordstrom "you may have a few odd bounces and have to pound a tee into the ground," but "when the wind is down in winter, it's great to get out and beat it around the course." Check the hotel golf packages on the Pinon Hills site. Check the Farmington Convention & Visitors Bureau site for other attractions.
###