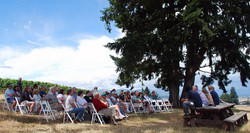 Planet Earth's Premier Pinot Noir Event.
McMinnville, Ore. (PRWEB) March 10, 2009
The 23rd annual International Pinot Noir Celebration (IPNC) will be held July 24-26, 2009, and will welcome over 60 premier Pinot noir producers from Oregon, California, Burgundy, New Zealand, Austria, Germany, and Alsace for what has been called "Planet Earth's Premier Pinot Noir Event." IPNC guests will spend three days tasting exceptional wines, savoring unforgettable meals, and learning and celebrating with luminaries of the food and wine world. Jancis Robinson, prolific author, Master of Wine, and world-renowned wine educator will be the 2009 Master of Ceremonies.
The 2009 IPNC will dedicate two highly anticipated seminars to the topics of soil and geology. In the morning seminar entitled, "Down to Earth: Digging Deeper into Oregon's Soils," Robinson will lead guests in a comparative blind tasting and discussion of ten Oregon Pinots made from two specially selected vineyards in the Willamette Valley. Guests will join top Oregon winemakers Terry Casteel (Bethel Heights Vineyard), Steve Doerner (Cristom Vineyards), Laurent Montalieu (Solena Cellars), Lynn Penner-Ash (Penner-Ash Wine Cellars), and Ken Wright (Ken Wright Cellars) in exploring the question of how soil, geology and the winemaker's approach impact the expression of Pinot noir.
For the afternoon seminar, esteemed journalist David Schildknecht, and eminent winemaker Francois Millet, of Burgundy's historic Domaine Comte Georges de Vogue, will take guests on a virtual tour of the famous village of Chambolle-Musigny, discussing the soils, geology, and terroir of some of the world's most distinguished vineyards. Guests will have the rare opportunity to taste an exclusive lineup of 2006 Comte de Vogue wines, including a side-by-side comparison of famed Grand Crus Bonnes Mares and Musigny Vielles Vignes.
Also praised as a showcase for the Northwest's acclaimed farm-to-table cuisine, the IPNC will host 40 guest chefs from the region's most revered restaurants. For Friday's Grand Dinner, Vitaly Paley of Paley's Place, Stephanie Pearl Kimmel and Rocky Maselli of Marche, Adam Stevenson of Earth and Ocean, and John Sundstrom of Lark each team-up with a local farmer to create inspired courses for guests to savor alongside a collection of wines poured by guest sommeliers. Saturday night's famed Northwest Salmon Bake features Benjamin Dyer, Jason Owens and David Kreifels of Simpatica, Mark Hosack of Gracie's, and Jason Stoller Smith of The Dundee Bistro.
In addition to world-class wines and memorable meals, guests will enjoy an exciting array of activities including a pairing of New Zealand white wines with world cheeses, a sensory presentation of soils and local farm produce, and an intimate vineyard tour and winery lunch at one of 14 Willamette Valley winery destinations.
Along with the speakers and chefs, it is the relaxing and friendly atmosphere that sets the IPNC apart from all other wine events. Whether tasting Grand Cru Burgundy or walking through vine rows with the people who planted them, guests find themselves unwinding in Oregon wine country while learning more about Pinot noir in a single weekend than most people learn in a lifetime.
"IPNC is one of those rare wine gatherings that works on every level."
-- Eric Asimov, The New York Times.
Tickets for the full weekend event, held on July 24 - 26, are $975 and are on sale now. Tickets include all seminars, tastings, breakfast, lunch, and dinner over two days as well as the Sunday Sparkling Brunch. For details, contact the IPNC at 800/775-IPNC or http://www.ipnc.org.
###