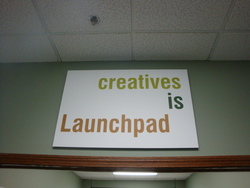 "Launchpad Creatives is about Collaboration, Creation and Cultivation, everything an entrepreneur loves to do" Eric Duchin
Woodbridge, NJ (PRWEB) October 1, 2010
Launchpad Creatives is at the fore-front of the small, but growing co-working trend worldwide and this trend has finally hit New Jersey.
As more people are starting businesses, they are looking at alternatives to their basements or the local Panera Bread to getting their work done. It is hard for a freelancer to concentrate at home with small children running around or with the cacophony of background noise at Panera Bread. The solution to obtaining that necessary concentration is to get out of bed, get to Launchpad Creatives, and start making things happen.
So, what exactly is co-working? The whole idea behind co-working is to create a community and a space where you can get work done in a collaborative fashion. You can bounce your ideas off other creative professionals a seat or two away, have group brain storming sessions to solve problems, or meet face-to-face with a client. Most importantly, you're able to get your work done.
Working at Launchpad Creatives is all about breaking the habit of working alone. In an office rental, you work primarily by yourself behind a closed door and you rarely know the people working next to you. At Launchpad, not only do you know the people working next to you, but you can achieve a synergy that wouldn't exist elsewhere.
"We're excited to be on the cutting edge of the co-working movement," says Noelle Stary, co-founder of Launchpad Creatives. "The challenge is educating the public about the benefits of working in this type of environment. We think that the space will provide an excellent option for entrepreneurs, small business owners, and one–man shops to get out of their houses, and get things done."
Starting October 1, 2010, Launchpad Creatives rates were reduced by 50% and are as follows:
1 Day Pass - $25/day

Use of conference room if/when its open
Free wifi/hard wire internet access
10 Day Pass - $225

Can be used for any 10 days during the month
Expires at the end of the month
Free wifi/hard wire internet access
Use of conference room
Monthly Pass 1 - $425/month

Dedicated work station for single use
Use of lockable storage room
Free wifi/hard wire internet access
Priority scheduling for the conference room
Includes usage of Launchpad Creatives website mailing address
Free advertising on the Launchpad Creatives website
Monthly Pass 2 - $825/month

Use of the closed office (two person office)
Use of the storage room (lockable)
Free wifi/hard wire internet access
Prior scheduling for the conference room
Includes usage of Launchpad Creatives website mailing address
Free advertising on the Launchpad Creatives website
Launchpad Creative is a co-working space located at 97 Main Street in Woodbridge NJ. Founded in 2010 by entrepreneurs Eric Duchin and Noelle Stary, the concept behind Launchpad Creatives is pretty simple: collaborate with others, create relationships and cultivate business. LPC, as they like to call it, also has the creative in mind. From dry-erase paint that circles the entire office, to pop-culture inspired slogans providing encouragement hanging on the walls, our business is positioned to foster ingenuity, imagination, and creativity.
Launchpad Creatives provides creative minded people with a clean, imaginative location where their business can thrive, increase productivity, and collaborate with each other to turn out exceptional work.
Some of the amenities include

Production Room
A white dry erase board that runs throughout the office space
Conference Room with Projector
Proximity to Train Station; easy access to New York City and the Jersey Shore
Ample Free Parking
Complimentary Coffee + other beverages
And more
The office is easily accessible from the NJ Turnpike, Garden State Parkway, and Highways 1, 9, & 35. NJ Transit's Woodbridge Station on the North Jersey Coast Line is about 5 minutes away (walking) on Pearl Street. Parking is adjacent to the building in an open lot off New Street.
Launchpad Creatives
97 Main Street
Woodbridge, NJ 07095
732.207.7114
Twitter: http://twitter.com/lp_creatives
Web: http://www.launchpad-creatives.com
Facebook: http://www.facebook.com/LaunchpadCreatives
Meetup: http://www.meetup.com/thelaunchpadcreatives
###