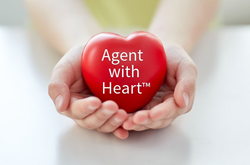 Consumers like to do business with people who care.
Yorba Linda, CA (PRWEB) February 07, 2017
PinRaise, the company that connects consumers with local businesses and nonprofits, announced its new Agent with Heart™ initiative.
Under the PinRaise program, local agents and brokers who join the Agent with Heart program agree to donate a portion of their commission to the nonprofit of their client's choice after closing a transaction.
"Many real estate professionals are passionate about making a difference in their community, and the Agent with Heart movement provides an opportunity to give back in a meaningful way," says Mr. John Giaimo, President of PinRaise. "Our goal is to help agents make an impact with nonprofits in their neighborhood, so everyone benefits from the real estate transaction, including the buyer or seller, the local nonprofit and the agent."
"Consumers like to do business with people who care," Mr. Giaimo continues. "That's why you see so many national brands have affiliations with nonprofits. We're giving the same brand advantage to agents and brokers at the hyper-local level. Everyone wins," Mr. Giaimo concludes.
The Agent with Heart movement provides agents and brokers with valuable marketing materials to differentiate themselves from others. Agents receive a complete marketing kit, including trademarked logos, digital assets, listing presentation inserts, social media materials, a press release template, a beautiful lapel pin and more.
Agents who join the movement are also included in an exclusive agent "wall of fame on PinRaise.com and RealtyTimes.com for enhanced search engine optimization. It also provides homebuyers and sellers yet another way to find an Agent with Heart.
About PinRaise: The PinRaise app connects consumers with local businesses who agree to donate a small percentage or fixed dollar amount to the nonprofit of the buyer's choice, providing recurring revenue for the nonprofit, a differentiator for the local business or real estate professional, and a feel-good story for the consumer. PinRaise is a member of the Association of Fundraising Professionals. You can download PinRaise at the App Store or Google® play. For more information, please visit http://www.PinRaise.com/agents.