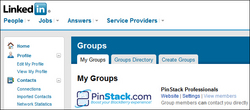 Based on our website demographics, LinkedIn is a perfect fit for PinStack's group for a variety of reasons, including its ease-of-use, efficiency, the seniority of members and its privacy standards
St. Johns, Antigua (PRWEB) March 14, 2008
PinStack.com the web's largest BlackBerry community with more than 300,000 users, today announced that it has chosen LinkedIn for Groups to facilitate professional networking for its members. To join the PinStack group on LinkedIn and to learn more about its members and business opportunities, please go to: http://linkedin.pinstack.com
By accessing the PinStack group on LinkedIn, BlackBerry users can network, accomplish their business goals, and further their careers by safely and effectively leveraging existing relationships.
LinkedIn for Groups enables professionals to help themselves and their contacts to connect with business partners, industry experts and employees. Joining the PinStack group on LinkedIn is free.
Members will enjoy the following benefits:

Extended reach of the group's network: Members will be able to access other PinStack members and Blackberry professionals directly or through referrals from shared contacts.
Access to the group directory with rich contact information, professional histories and endorsements.
Focused searches on group members using criteria such as geography and areas of interest.
"Based on our website demographics, LinkedIn is a perfect fit for PinStack's group for a variety of reasons, including its ease-of-use, efficiency, the seniority of members and its privacy standards," said Hayden James, president of PinStack.com. "Approximately 40% percent of PinStack.com members already use LinkedIn to generate business opportunities. By joining the PinStack group on LinkedIn individual members enhance their network and open doors leading to business opportunities and BlackBerry professionals on an international level," concluded James.
LinkedIn also announced last month that members can now access a LinkedIn web application using Blackberry (and other web-enabled wireless phones). Simply browse to: m.LinkedIn.com.
About PinStack.com
Founded in July 2004, PinStack receives more than 1 million visits per month. Focusing on BlackBerry Professionals, PinStack offers support discussions, news, downloads, reviews and more, all in one convenient place. PinStack's atypical approach towards community-based knowledge sharing, has changed the way thousands of Blackberry users solve their handheld issues for just about every BlackBerry problem they face. Additional information available at http://www.pinstack.com.
About LinkedIn
LinkedIn has established the world's largest professional network. Currently, more than 20 million professionals are on LinkedIn, including senior-level executives from all five hundred of the Fortune 500 companies. Additional information available at http://www.LinkedIn.com
LinkedIn is the exclusive property and trademark of LinkedIn Corporation. BlackBerry is the exclusive property and trademark of Research In Motion Limited.
###