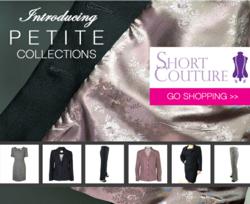 The way we look at it is simple - if you look great, you feel great, and that's got to lead to a better, more confident performance in the workplace
London (PRWEB UK) 1 May 2012
The two retailers have put together a beautiful collection of petite ladies' office wear, with a special emphasis on petite trousers, business dresses, office jackets and blouses. All styles featured in the petite work wear range are available in sizes 8-16 for petite ladies who are 5' 4" and under.
Pinstripe and Pearls, an online retailer of office clothing for women have responded quickly to customers who want to buy British and are struggling to find petite work clothes. "At Pinstripe and Pearls we appreciate the frustrations felt by many petite business women – finding work wear designed with high quality fabrics, which not only fit well but look great for the more formal office environment. This is why we approached Short Couture, a brand which specialises in business clothing for Petite ladies, using British talent to design and manufacture all their products."
Short Couture is run by Hayley Chalmers. Hayley, a petite lady herself decided to start the company when she grew tired of not having clothes that fit properly and not being able to find retailers of petite work wear.
Hayley says "Being 5'1" I've had a lifetime of clothes not fitting properly and not being able to find decent clothes for work. So I finally decided to start a business making them. It wasn't easy. I was an IT manager, with no knowledge or experience in fashion. It took me 18 months of research and I spent my life's savings on the business but now have a great range to show for it!."
Emma Blake, CEO at Pinstripe and Pearls says "We are very excited about the new range and hope that this will make shopping for work wear a much more enjoyable experience for petite women. We are delighted that Short Couture source and manufacture all their products right here in the UK – it's a fantastic advert for "Made In Britain". We wanted to make life just that little bit easier for busy petite business women and with Short Couture we feel we can achieve this."
To view the new line visit http://www.pinstripeandpearls.com.
UK Returns are free and delivery options are flexible - you can have your order delivered on a Saturday or straight to your office!