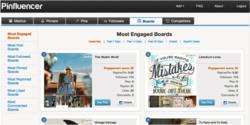 San Mateo, CA (PRWEB) August 29, 2012
Today Pinfluencer, the leader in Pinterest analytics, monitoring and brand development, announced their new Agency Plus service. Agency Plus allows companies to manage multiple accounts and brands, easily analyze client and competitor activity, and even allows content strategy testing. Pinfluencer is an ideal tool for social marketing agencies, advertising agencies, public relations agencies and any service provider handling multiple brands for Pinterest.
Since its recent release, Pinfluencer's pinterest analytics has already made a significant impact in Pinterest retail and brand marketing, garnering top name clients such as 1-800-Flowers, GNC, Hautelook, etc. Pinfluencer is a tool that can significantly impact a seemingly endless variety of retail brands from fashion and home design to health and how-to-articles.
Pinfluencer allows agencies that represent multiple clients to demonstrate the effectiveness of the Pinterest presence and to keep track of their competitors with easily digestible boards, pin and pinner reports. Clients are able to process and manage large amounts of data, as well as find meaningful trends, such as identifying and building relationships with brand advocates. Pinfluencer allows retailers to test content strategies for individual brands and products (i.e. AB testing) to determine how to make products the most appealing to consumers.
Blue chip Marketing Worldwide has seen great results, "Pinfluencer allows us to measure, benchmark and optimize our Pinterest efforts for our clients. We are able to see what content is generating the most pins, who each brand's key influencers are, and best of all, we have the ability to attribute pins to online sales."
In addition to providing deep insights around brand's pinner, advocates, pins and boards, Pinfluencer allows agencies to easily see which other brands and client competitors are more or less active on Pinterest, who is employing re-pinning as their Pinterest presence strategy, which brands have suddenly started creating many boards, which competitors are having actual conversations with their users on Pinterest etc. Agencies can use this report to demonstrate how their Pinterest efforts compare in volume with their client's competitors.
Pinfluencer's overall activity tracker helps agencies demonstrate the growth in Pinterest community, board and engagement to their clients. With Pinfliuencer agencies can clearly show the revenue impact from their board, pins and profile activity.
"As retailers ramp up to the holiday season, a rapidly increasing number of them are implementing Pinterest into their marketing strategy. As brand managers take advantage of Pinterest's unique platform, Pinfluencer analytics helps them to optimize their social shopping experience for their customers -- turning buzz into profit, " states Sharad Verma, CEO of Pinfluencer.
Product Details, Pricing Availability
More details on agency plus program and agency pricing can be found at http://www.pinfluencer.com/agency.
Pinfluencer is now offering a free, 60-day fully featured trial. To sign up, visit
http://www.pinfluencer.com. To purchase one of Pinfluencer's SaaS-based monthly subscription for pinterest analytics – which offers tiered service levels based on data usage and feature sets, customized for agencies, large and mid-size retailers and publishers – interested parties can contact sales(at)pinfluencer(dot)com to request a full demo and obtain pricing.
About Us
Headquartered in Silicon Valley, Pinfluencer is the leading analytics provider for the Pinterest social media platform. Already used by dozens of well-known agencies, retailers, brands and publishers, Pinfluencer's easy-to-use analytics engine delivers rich and intelligent metrics, actionable recommendations and a competitive insights solution to expand product reach and engagement with customers.
Contact Information
Media Contact: Kim Barsi, Storyboard PR, 415.516.5863, kim(at)storyboardpr(dot)com
Industry Insight - Expert Reference
If you are a journalist looking for key facts on the retail industry, feel free to contact us for insight into industry trends.