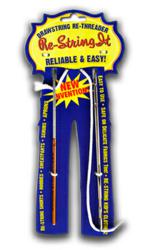 Starting a craft project by looking at a pile of items that have been lying around the house, might be the best tip.
(PRWEB) February 28, 2013
Moms and teachers looking for fun Pinterest crafts for themselves, or for children, should look for five traits when choosing from the myriad of options available, according to CWA Enterprises, which supports inventive thinking. With the number of pins growing exponentially on Pinterest, choosing one craft idea can be overwhelming. This is why the following tip sheet has been created, to help narrow down the selection.
First, search for a word on Pinterest that includes the supplies you already have or ones that are easy to get. If this doesn't yield any potential results, try using the word again with "Pinterest" in a Google search, since not every pin has been labeled correctly. The search results usually include pins and boards where comments are included using that same phrase.
Second, follow a fellow Pinterest user who likes the same types of crafts. Knitting and scrapbooking are the most popular types of craft projects. Cathy Litzenburg has about 300 followers. Her pins are consistent and frequently shared again by her fans.
Third, consider crafts that, similar to the Re-String It tool, solve a common problem. For example, this project solves the problem of earphones that often become twisted and tangled. The article explains that adding thickness to the cords using colorful threads, prevents them from intertwining while at the bottom of a purse or jacket pocket.
Fourth, don't forget that many of the popular craft magazines have created Pinterest boards of their own. Crafts 'n Things magazine out of Sidney, OH, has 24 boards that have attracted more than 2,000 followers. Do It Yourself magazine has 19 boards and about 18,000 followers.
Fifth, Pinterest, like the Re-String It, tool, has been called "savior of all shed junk." Starting a craft project by looking at a pile of items that have been lying around the house, might be the best tip. From imaginative wind chimes to scarf necklaces, converting a junk pile into a gift pile is a great way to find successful projects.
Each of these tips could lead to crafts that could be done using the universal re-threading tool, Re-String It. More crafty ideas are shared with their fans who Like them on Facebook. The heavy duty, yet ultra-slim clothing repair tool uses a 4-millimeter tube with an 18-gauge wire to loop drawstrings back through sweatpants and sweatshirts, as well as industrial laundry bags and medical scrubs. With Re-String It, consumers have a reliable and easy way to mend the drawstrings of their favorite clothing items. Re-String It is available for purchase on their website and on Amazon.com.
About the Company:
Re-String It is an award-winning product of CWA Enterprises, which was created to bring the perfect must-have domestic tool to market. Re-String It is a heavy duty, versatile re-stringer that is easy to use and won't damage clothing. The rounded edge on the adjustable loop enables use on delicate materials. Visit http://www.re-stringit.com for more information.