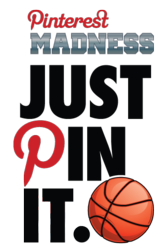 Pinterest Madness is a fun competition, open to anyone.
Greensboro, NC (PRWEB) March 13, 2012
March is the month of madness, when sports fans track the progress of college basketball's best teams through the NCAA Championship Tournament. Cheering for their favorites to survive and advance, fans also find common cause with a host of other teams whose on-court success could propel their bracket predictions to the top of their office pools and friendly competitions. As serious stats-crunchers go head-to-head with hometown loyalists and people whose picks come from less conventional methods, such as choosing the teams with the prettier uniforms, the excitement builds into an early spring frenzy.
"As a big college basketball fan, this is my favorite time of year," says Scott Williams, President of Emisare, a firm located in Greensboro, North Carolina, the heart of college basketball's Tobacco Road. "As a marketer who works to connect brands with customers through all available channels, I've spent a good part of the past year exploring the opportunities made possible by Pinterest, the social media platform where users share images of things they love with their networks of friends and followers."
Looking forward to March Madness, Williams thought Pinterest could be an excellent venue for a Tournament challenge. With less than a week to prepare before Selection Sunday, Williams and his team went to work creating Pinterest Madness.
"It's a fun competition, open to anyone," Williams continues. "All you have to do is visit http://pinterestmadness.com. If you don't already have a Pinterest account, we'll take you through the setup process. Then, all you have to do is run through our pin boards, picking your winners by using the "Repin" or 'Like' button. Unlike most Tournament challenges, Pinterest Madness will refresh each weekend, so an early round loss won't cripple your chances. We'll track our top performers on a leader board and, when it's over, winners will receive a custom-designed t-shirt to go with their new found fame, glory and honor."
To process the volume of entries that NCAA Tournament excitement could generate, Emisare realized that they needed quick access to accurate participation metrics. "We knew we'd need an automated statistics system to run the competition," notes Williams. "Searching for a service that provides accurate Pinterest analytics, we found Pintics, and asked them to partner with us."
"As soon as we understood the promise of Pinterest, we realized that marketers would need reliable, high-quality metrics to make it work as a communications tool," says Pintics Co-Founder Francisco Guerrero. "We're here to help people understand and optimize all of their Pinterest traffic, so providing the metrics to power this contest was right in our wheelhouse. When Scott explained Pinterest Madness to us, we jumped at the chance to work with his team, and we invite anyone who'd like to explore our capabilities to register for our beta at http://www.pintics.com."
Pinterest Madness is as much about exploring the possibilities of Pinterest as it is about the competition itself. "We believe that this type of dialog is a great way for brands to communicate with customers," Williams concludes. "So, we're hoping the lessons we learn over the next few weeks form the foundation for some really fun future interactions. And fun is the key, here. We're asking our Pinterest Madness pioneers to not take the whole thing too seriously. Just enjoy the ride as you check out this fantastic new channel – and may the best prognosticator prevail."
Pinterest Madness: http://pinterestmadness.com
About Emisare
Located in Greensboro, North Carolina, Emisare, LLC bases its business on building relationships between people and brands. Focused on helping its clients achieve their maximum marketing potential, the company develops a thorough understanding of each client's brand and audiences, and then, working from that foundation, identifies both the immediate, low-investment, high-impact communications opportunities and the longer-term approaches that show potential for a superior return on investment. Exercising its strategic acumen and creative skills across a full range of traditional and new media channels, Emisare consistently wins real, measurable results for its clients and recognition for creative excellence from its peers. You can follow Emisare at http://about.me/emisare
About Pintics
Pinterest + Analytics = Pintics, a new service that provides marketers with the metrics they need to make Pinterest an effective communications tool. Currently in private beta, the company is conducting an in-depth analysis of the Pinterest site and developing a full suite of analytic tools. Currently, you can use Pintics to manage multiple accounts and find out more about the traffic and sales generated by your Pinterest activities. You can follow the company's progress at http://blog.pintics.com. For a free invitation to Pintics, go to http://signup.pintics.com