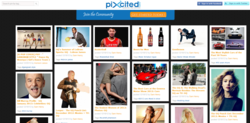 Pixcited is a new social bookmarking tool for men.
Los Angeles, CA (PRWEB) December 21, 2012
Pixcited is a new social bookmarking tool for men. Social bookmarking has been around since the mid-nineties. The term "social bookmarking" was reportedly coined by Del.icio.us in 2003. It refers to a service that lets users save their favorite sites from the web and share their bookmarks with the world (1).
In 2012, for the first time ever, a social bookmarking service called Pinterest (http://www.pinterest.com) rocketed to the top 50 most visited sites in the country (2). Pinterest effectively bookmarks and displays images found around the web. Investors and analysts are buzzing about the massively popular site and make promising projections: higher cost-per-click revenue than Facebook, years of growth and expansion (3). It is estimated to be worth over $7 billion (4). Pinterest has the look, the functionality, and a reliable community of users.
Yet it is conspicuously missing something: diversity. In fact, 80% of Pinterest users are females. Most of them are between the ages of 25-54 (5). The Pinterest community shares a narrow set of interests; commonly pinned topics include weddings, recipes, and decorating inspiration.
At Pixcited, we recognize that the interests represented on Pinterest do not hold the attention of most internet users. It is for this reason we created Pixcited. Pinterest has marketing power for brands whose target demographic is women. Pixcited aims to connect businesses who market to men with their target demographic.
Excited yet? Visit the Pixcited blog, http://www.pixcited.com/blog for daily updates!
Press release by Fouts Ventures. Questions or comments about this press release contact the Fouts Ventures Editorial Staff at 1-800-277-5221 or visit http://www.foutsventures.com
(1) Wikipedia. Dec. 14, 2012. Social bookmarking. Dec. 21, 2012 en.wikipedia.org/wiki/Social_bookmarking
(2) CNET News. Dara Kerr. Oct. 24, 2012. Pinterest pierces Top 50 most-visited sites list. Dec. 21, 2012 news.cnet.com/8301-1023_3-57539742-93/pinterestpierces-top-50-most-visited-sites-list/
(3) Venture Beat. Apr 9, 2012. Jeffrey Zwelling. Pinterest drives more revenue per click than Twitter or Facebook Dec. 21, 2012. venturebeat.com/2012/04/09/pinterest-drives-more-revenue-per-click-than-twitter-or-facebook/
(4) The Globe and Mail. Debra Borchardt. Sept. 6, 2012. Is Pinterest really worth $7.7-billion? Dec. 21, 2012. theglobeandmail.com/technology/tech-news/ispinterest-really-worth-77-billion/article4203124/
(5) Forbes. Eric Jackson. Oct. 25, 2012. Why Facebook Needs To Be Deathly Scared Of Pinterest Dec. 21, 2012. forbes.com/sites/ericjackson/2012/10/25/why-facebook-needs-to-be-scared-of-pinterest/