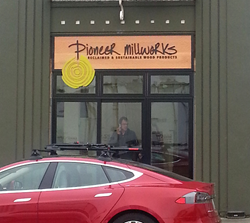 We're excited to have a space where folks can be hands-on with an abundance of our reclaimed wood products.
Portland, OR (PRWEB) February 28, 2014
Following their ethos of reclaiming and re-using, Pioneer Millworks has rehabbed an equine facility in Portland, Oregon to serve as their showroom. Located at 2609 SE 6th Ave, the space showcases their reclaimed wood products and provides a home base for their west coast sales and wood experts.
"We're excited to have a space where folks can be hands-on with our reclaimed products and experience the latest and greatest in finishes, textures, and applications," explained Jennifer Young, General Manager of Pioneer Millworks.
The showroom includes a large sample space, conference area, and customization booth along with office spaces. "We're really happy to have a central location where we can share an abundance of samples and customize pieces on-demand while working with clients to meet each project's distinctive goals," said Abby Mages, design expert and Northwest sales representative at Pioneer Millworks.
While someone is almost always in attendance, 8 a.m. to 5 p.m. PST, M-F, Pioneer Millworks suggests visitors make an appointment via phone or email to ensure ample time to discuss projects and review options. Currently the building does not have a vehicle charging station, but the company has plans to add one in future.
Pioneer Millworks is the leader in the reclaimed wood industry. To date, they've rescued nearly 22 million board feet of old wood from rot and landfills, giving it new life as flooring, millwork, cabinetry, and more. All manufactured in the USA from New York and Oregon — in a way that's healthy for customers, employees, and the environment. Pioneer Millworks is FSC certified and Green America approved. All of their products are LEED point eligible.