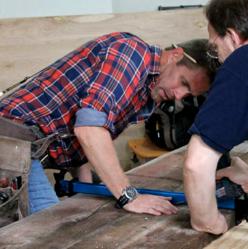 We're going to celebrate the character, the imperfections, of the reclaimed wood for the countertop
Farmington, New York (PRWEB) January 15, 2013
Airing Tuesday, January 15 at 9 pm (EST) on the DIY Network, I Hate My Bath, the "Big Brown Bath" episode, will incorporate reclaimed agricultural planks into a bathroom remodel. Professional carpenter and show host, Jeff Devlin, will re-craft the antique wood, giving it new life as a floating vanity countertop in the remodeled bathroom.
Devlin explains, "We're going to use an epoxy coating to keep the character of the wood and be able to build up the finish so as to be smooth and level. It will create a nice depth and still have the character, imperfections, original nails, the whole deal."
Pioneer Millworks carefully maintained the 2" x 10" x 12' Red Pine floor joists original rough sawn exterior during reclamation from a dilapidated barn in upstate, New York. The new bathroom countertop celebrates ferrous staining, metal artifacts, highly textured exterior surfaces, and a deep patina inherent in antique wood.
"When you think about the wood's history, you see why it's so prized: these timbers were cut in the early 1900's from trees that probably started to grow in the 1800s. Now, after 100+ years supporting a barn, the timbers begin anew, offering the beauty of tighter growth rings, deeper patina, and history," said Jered Slusser, reclaimed wood expert at Pioneer Millworks.
About the show:
Love your house, but not the bathroom? Join the club. DIY Network's I Hate My Bath series gives homeowners hope with economical yet clever bathroom design ideas using amazing new products and cool tools. Forget about it costing almost a year's salary to renovate your bathroom. I Hate My Bath tears up real homeowners' lives and their bathrooms, showcasing along the way impactful alternatives that don't require loans, demolition or divorce.
Tune in to the DIY Network, Tuesday, January 15 at 9pm as Jeff Devlin transforms the 1980's big brown bathroom into a stylish and functional space with gorgeous Travertino-tiled wainscoting, a floating vanity with reclaimed wood countertop and nautical touches like porthole mirrors and wall-mounted faucets, a bathtub with jets and a radio, a steam shower and a secret storage closet.
About Pioneer Millworks:
Pioneer Millworks is the leader in the reclaimed wood industry, having given more than 21 million board feet of old wood new life as flooring, millwork, cabinetry, and more. All sourced and manufactured in the USA from New York and Oregon — in a way that's healthy for customers, employees, and the environment. Pioneer Millworks is FSC certified and Green America approved. All of their products are LEED point eligible.