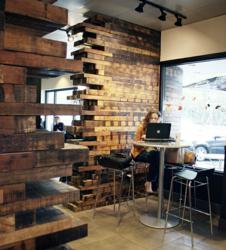 We're excited to share our Trade Winds Patina grade at Greenbuild this year. Along with FSC certification it is LEED point eligible and offers unmatched character, especially well received as paneling
Portland, OR (PRWEB) October 29, 2012
Pioneer Millworks is unveiling their Reclaimed Indonesian Hardwoods, Trade Winds Patina at Greenbuild 2012 in San Francisco, CA. The company, already known for their reclaimed wood products, has salvaged the exotic hardwoods and re-purposed them as paneling, accent walls, tables, and more.
"Trade Winds Patina offers another approach on reclaimed wood from a unique source," says Jered Slusser, Wood Expert at Pioneer Millworks. "It has great depth of character, patina, original, uneven surface, and ferrous staining stemming from the industrial nature of its previous life in shipping containers."
Salvaged from the containerized shipping industry where the wood was used as stickers, this mixture of exotic Indonesian Hardwoods celebrates wear marks, small sound knots, occasional nail holes, and a range of colors from deep red-browns, blondes, tans, light oranges to fawn and soft reds. The wood's naturally occurring vagaries create a warm, relaxed appearance. It's 100% made in the USA, is available unfinished or prefinished, and is FSC certified.
"We're excited to share our Trade Winds Patina grade at Greenbuild this year. Along with FSC certification it is LEED point eligible and offers unmatched character, especially well received as paneling," continues Slusser.
As the name reflects, Pioneer Millworks was a pioneer in the salvaged and reclaimed antique wood industry. They're proud to give old wood new life as flooring, timbers, millwork, cabinetry, and more. They serve the USA from New York and Oregon, in a way that's healthy for you, their employees, and the environment. Their products offer ecologically conscious homeowners, designers, and builders an alternative to non-sustainable flooring, paneling and millwork without compromising quality, character, or selection. Pioneer Millworks is FSC certified and Green America approved. All of their products are made in the USA and are LEED point eligible.
Greenbuild is the world's largest conference and expo dedicated to green building. It brings together industry leaders, experts and frontline professionals dedicated to sustainable building in their everyday work. Greenbuild features three days of inspiring speakers, invaluable networking opportunities, industry showcases, LEED workshops and tours of the host city's green buildings. Contact Pioneer Millworks if you are interested in attending.