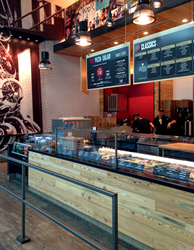 Antique Heart Pine is a highly desired species due to its dense grain patterns, deep patina, character, and of course, its history.
Farmington, NY (PRWEB) May 19, 2016
Pioneer Millworks is reclaiming Heart Pine timbers that survived a devastating fire in the Pullman Couch Company factory in 2013. The fire raged while the city endured freezing temperatures. Despite the fire and ice, thousands of board feet of old Heart Pine endured and today is being given new life as custom timbers, flooring, paneling, and furniture.
"Antique Heart Pine is a highly desired species due to its dense grain patterns, deep patina, character, and of course, history," explains Jennifer Young, General Manager of Pioneer Millworks. "We enjoy the challenge of turning the bones of an old, devastated building into handcrafted pieces for commercial spaces and homes."
The 19,000 board feet of Heart Pine that Pioneer Millworks procured after demolition began has been re-purposed as flooring and paneling in homes and businesses, including a chain of west coast pizzerias. Demolition of the Pullman building was halted in 2015, but has resumed this year and Pioneer Millworks expects to receive several thousand more board feet of the antique Heart Pine.
The antique timbers from the Pullman warehouse were branded with 'Bogualusa,' which was the site of the world's largest sawmill in Bogalusa, Louisiana from 1908 until 1938. The mill, run by The Great Southern Lumber Company, harvested only virgin longleaf pine in Louisiana and Mississippi until the forests were depleted and the mill ceased operation. Conservative estimates say the salvaged Heart Pine is over 250 years old.
The historic Pullman Couch Company, erected in 1911, was once the powerhouse of the world's first industrial park. Their warehouse was constructed with Southern longleaf pine (also known as Heart Pine), the strongest and most durable type of pine. Pullman Couch Company resided in Chicago's Central Manufacturing District through the 1950s and, while a few businesses came and went over the following four decades, the warehouse stood vacant for ten years. In January of 2013 it endured one of the worst fires Chicago had seen, commanding over 200 firefighters to tame it. With temperatures around 10 degrees, the water spray from the fire hoses swathed everything in ice – buildings, vehicles, equipment, even the firefighters. Once thawed, demolition began allowing an inventory of what materials had survived.
Pioneer Millworks is a leader in the reclaimed wood industry. To date, they've rescued nearly 25 million board feet of old wood from rot and landfills, giving it new life as flooring, millwork, cabinetry, and more. All manufactured in the USA from New York and Oregon — in a way that's healthy for customers, employees, and the environment. Pioneer Millworks is FSC certified and Green America approved. All of their products are LEED point eligible.