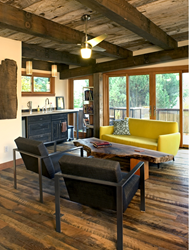 We'll be working to get as much of the Centennial Mills reclaimed material back into the Portland market as possible
Portland, OR (PRWEB) March 18, 2016
Pioneer Millworks, a leader in the reclaimed wood industry, is salvaging 400,000 board feet of timbers and planks during the selective deconstruction of Centennial Mills in Portland, Oregon. Deconstruction of five warehouses and several old grain elevators, deemed beyond repair and unsafe, began in September 2015 and is expected to be complete by June 2016. To date, seven tractor-trailer loads of Douglas fir timbers and cribbing planks have been transported to Pioneer Millworks' McMinnville, Oregon yard.
"Ideally, we'll be working to get as much of the reclaimed material back into the Portland market as possible," said Jonathan Orpin, president and founder of Pioneer Millworks. The company has manufacturing facilities in Farmington, New York and McMinnville, Oregon and a design studio in Portland, OR.
"Some of the wood can be re-used as heavy timber and beams, while some will be re-milled for use as paneling or flooring," continued Orpin. Pioneer Millworks has salvaged more than 25 million board feet of wood in its 25 years of business. Wood that otherwise would rot or end up in landfills is given new life as flooring, paneling, timber frames, fixtures, and furniture.
The Centennial Mills site is owned by the Portland Development Commission (PDC) and lies within Portland's River District urban renewal area. "Working with Pioneer Millworks enabled us to streamline the salvage process, ensure the repurposing of as much material as possible, and return funds to the project budget," said PDC Executive Director Patrick Quinton. "We view this as a very successful partnership and look forward to hearing about how and where Centennial Mills materials live on throughout the Northwest."
Orpin comments, "Originally we hoped to salvage about 800,000 board feet of timber from the Centennial Mills site. However, due to rot and the difficult cost benefits of saving all the smaller pieces, that number has been reduced." The salvaged wood is of an exceptional grain quality, notes Orpin. "We're sawing out numerous clear vertical grain boards at our shop in McMinnville. Examples of these can be seen in our downtown professional showroom, on SE 6th Avenue in Portland."
After passing an emergency declaration in December 2014 relating to the condition of Centennial Mills, the PDC enlisted Tigard, OR-based Northwest Demolition & Dismantling for the selective demolition and salvage of the property. Demolition of Warehouses A, B, C, D, and F as well as Elevators A, B, and C began the first week of October 2015 and is scheduled to conclude in June 2016. The subsequent phase is slated to begin in July 2016. "The company that's handling the demo is doing a magnificent job at saving the timbers. We are very pleased with how it's being done," Orpin commented.
Pioneer Millworks is the leader in the reclaimed wood industry. To date, the company has rescued nearly 25 million board feet of old wood from rot and landfills, giving it new life as flooring, paneling, millwork, and cabinetry. The salvaged wood is re-manufactured in a way that's healthy for customers, employees, and the environment. Pioneer Millworks is FSC certified and Green America approved. All of its products are LEED point eligible.