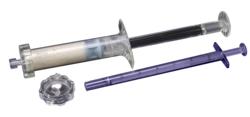 We are very pleased to expand our product offerings with nanOss Bioactive Loaded...
Raleigh, NC (PRWEB) June 30, 2011
Pioneer Surgical Technology Inc., a leader in innovative orthopedic, spine, and biologic medical devices, announces the market availability of nanOss Bioactive Loaded, a pre-filled mixing syringe containing nanOss Bioactive. This innovative system is designed to enhance the delivery of bone grafts during minimally invasive procedures as well as enhance the sterile mixing of bone grafts during surgery.
nanOss Bioactive is a resorbable, porous calcium phosphate bone void filler for use as a bone graft substitute in various orthopedic and spine procedures. It is an osteoconductive implant with a multidimensional porosity similar to human cancellous bone and acts as a scaffold for the in-growth of new bone.
Regarding Pioneer's latest product introduction, Mr. Shane Ray, General Manager – Biologics for Pioneer stated, "We are very pleased to expand our product offerings with nanOss Bioactive Loaded. We strive to meet surgeon needs and our customers asked for an MIS delivery option. Ease of use is very important to reduce preparation time of biomaterials as well as reduce the overall procedure time. With the availability of nanOss Bioactive Loaded, as well as increasing clinical evidence for our products, we are continuing our path of providing highly effective, novel, and easy-to-use biomaterials to help patients."
For more information regarding Pioneer's Biologics offerings, including nanOss Bioactive Loaded, please visit the Pioneer Surgical website.
About Pioneer Surgical Technology, Inc.
Pioneer Surgical Technology, Inc. is a dynamic medical device firm founded in 1992. Pioneer's focus on innovation has resulted in over 120 U.S. and foreign patents, with numerous patents pending. The company has a comprehensive portfolio of orthopedic, spine and biologic systems. Pioneer entered the orthobiologics market with two acquisitions in 2007. Their Orthopedic, Spine and Biologics divisions produce state-of-the-art, cost-effective solutions for surgical procedures that in the past have proven difficult or problematic for both surgeons and patients. Pioneer employs more than 270 people worldwide, with offices in Marquette, Michigan; Raleigh and Greenville, North Carolina; Austin, Texas; Woburn, Massachusetts; and Driebergen, Netherlands. For more information on Pioneer and its products, visit http://www.pioneersurgical.com.
###