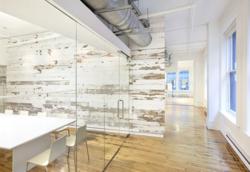 Our Friends & Family event happens just once a year. Up to 50% off of our handcrafted, one-of-a-kind, made in the USA, reclaimed wood products – it is a great opportunity to include a character rich, environmentally friendly product into any project.
Farmington, NY (PRWEB) April 16, 2012
Pioneer Millworks, a leader in the reclaimed wood industry, announced their annual Friends & Family sale event, scheduled for Saturday, April 21 from 9am to 2pm, will include reclaimed wood products such as: flooring, countertops, mantles, siding, and a woodworker's corner of specialty, hard to find antique wood.
"Our Friends & Family event happens just once a year. Up to 50% off of our handcrafted, one-of-a-kind, made in the USA, reclaimed wood products – it is a great opportunity for homeowners, architects, designers, and limited budget projects to incorporate our storied, antique wood," explains Jered Slusser, design expert at Pioneer Millworks. "This is a cash and carry event, so if you're looking for reclaimed wood and need it immediately, Saturday is your day."
Special sale lots can include any variety of species and grades from clean American Gothic Reclaimed Oak to storied Grandma's Attic Mixed Softwoods as solid or eco-friendly engineered flooring. Sale items can also include hand hewn timber mantles, antique barn siding with remnants of white or red paint, solid wood countertops, and rare species such as Elm or Chestnut.
"When you think of the history of reclaimed wood, the work involved in revitalizing it, the innate character, unmatched by fresh sawn wood, you begin to understand the value and how special our Friends & Family event is," continues Slusser.
The history of a reclaimed wood product starts as expected a few hundred years ago as a seed, growing a century or more into a mature tree. The tree would have been harvested in the 1800s or early 1900s and milled into timber, flooring, or siding for the building, barn, or factory it would serve. As these structures outlived their usefulness, they were abandoned or demolished and disposed of in landfills or burned. Fast forward to the last 30 years. Pioneer Millworks works across the nation to 'rescue' antique wood from the dilapidated structures.
Once in Pioneer Millworks' 9-acre yard, the timbers or planks are labeled, digitally cataloged, and stacked until needed. Once selected, the pieces are moved to the de-nailing station where any metal artifacts are removed by hand, with a bit of grit and determination, and use of metal detectors. Next, the timbers move to the saws where they're milled into planks, sorted, and sent to the kiln to dry. After a few days in the kiln, they are molded, receiving precision tongue and groove. The planks then go through quality control and are shipped to the jobsite.
Details of Friends & Family Sale Event:
When: Saturday, April 21, 2012
Time: 9 am to 2 pm
Where: 1180 Commercial Drive, Farmington NY
What: 30 to 50 % off regular price on specific lots of reclaimed wood products
As the name reflects, Pioneer Millworks was a pioneer in the salvaged and reclaimed antique wood industry. They're proud to give old wood new life as flooring, timbers, millwork, cabinetry, and more. They serve the USA from New York and Oregon, in a way that's healthy for you, their employees, and the environment. Their products offer ecologically conscious homeowners, designers, and builders an alternative to non-sustainable flooring, paneling and millwork without compromising quality, character, or selection. Pioneer Millworks is FSC certified and Green America approved. All of their products are made in the USA and are LEED point eligible.