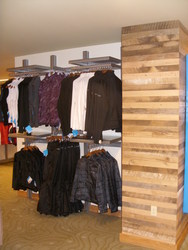 Crafted to order in our shop, our FSC-Certified recycled wood panels make installation of wood walls, ceilings, and partitions quick and easy
Farmington, NY (Vocus) October 15, 2010
Pioneer Millworks, a leader in the reclaimed wood industry, announces a new product: Reclaimed Wood Paneling. Pioneer Millworks' antique, reclaimed wood is now available as custom paneling, solid or engineered. The panels can be prefabricated to specific dimensions, making them easy and faster to install for commercial and residential projects.
"Crafted to order in our shop, our FSC-Certified recycled wood panels make installation of wood walls, ceilings, and partitions quick and easy," states Jered Slusser, wood expert at Pioneer Millworks. "The options are nearly endless with more than forty species, grades and textures available. The wood is valued for its grain pattern, durability, deep patina, and incredible character. And more often than not," continued Slusser, "the antique wood used in paneling will show signs of its previous life with ferrous staining from nails or bolts, insect trails, and old joinery notches."
Two years ago Pioneer Millworks launched what they believe to be the World's Most Eco-Friendly Engineered Flooring™ making it possible for the first time to have the character of their Settlers' Plank grade over concrete slabs and radiant heating systems. They found that the same engineering method is equally effective for producing paneling. Reclaimed wear layers are adhered with no VOC glue to an FSC substrate, giving the panels stability that's inherent in Pioneer Millworks' other engineered products. Engineered panels offer the same history and character as solid panels and can be made un-finished or finished at the Pioneer Millworks' shop. For more information or pricing call Pioneer Millworks at 1-800-951-9663.
As the name reflects, Pioneer Millworks was a pioneer in the salvaged and reclaimed antique wood industry. They're proud to give old wood new life as flooring, millwork, cabinetry, and more. They fully source and manufacture in the USA in Oregon and New York, in a way that's healthy for you, their employees, and the environment. Their products offer ecologically conscious homeowners, designers, and builders an alternative to non-sustainable flooring, paneling and millwork without compromising quality, character, or selection. Pioneer Millworks is FSC certified and Green America approved. All of their products are LEED point eligible.
###