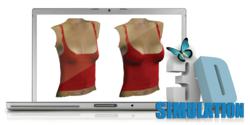 The first 3D Physical Web-based simulator for breast augmentations
Lausanne, Switzerland (PRWEB) February 01, 2012
In December 2011, it was discovered that women around the world had been potentially put at risk having received breast implants containing non-medical grade silicone manufactured by French company Poly Implant Prothèse (PIP). [source: Guardian.co.uk, "France's faulty breast implants scandal" Dec 14, 2011]
Several international plastic surgery associations, such as the International Confederation for Plastic, Reconstructive and Aesthetic Surgery, have recently recommended that all patients should be able to have an assessment by a plastic surgeon regardless of whether they are showing symptoms.
3D simulation technology used for breast implant revision
As a result of the plastic surgery association recommendations, and having received numerous patient enquiries about PIP implants through Crisalix's patient-orientated website Sublimma, Crisalix has developed a new "implant revision" tool and is offering this update to its e-Stetix 3D simulation system free to any plastic surgeon conducting a revision of PIP implants.
The 3D simulation procedure involves taking three photos of the patient's torso, and using the e-Stetix 3D editor to remove the original implant volume. Once the new 3D body simulation has been saved without implants, the new surgery can be planned in 3D.
About e-Stetix 3D Breast Implant Simulations
e-Stetix is the first web-based 3D breast implant simulation tool for plastic surgery based on the physical properties of the body.
Based in the fastest growing life science cluster in the world, The Swiss Institute of Technology of Lausanne (EPFL), Switzerland, and collaborating with renowned academic R&D centers such as the Institute of Surgical Technology and Biomechanics (ISTB) of the University of Bern, and the Department of Plastic and Reconstructive Surgery of the National Hospital also located in Bern, Crisalix brings together the latest advancements in surgical technology, 3D and information technology.
IPRAS (International Confederation for Plastic, Reconstructive, and Aesthetic Surgery) recommends Crisalix for the significant progress e-Stetix's 3D simulation technology brings to the entire medical community and its contribution to providing the highest level of patient care.
e-Stetix is also supported by the world's most recognized plastic surgeons and a Medical Advisory Board that includes, amongst others, Prof. Yves-Gérard Illouz (inventor of liposuction), Prof. Thomas Biggs (Editor-in-Chief, IPRAS Journal) and Prof. Jan Poell (President of the ISAPS – International Society of Aesthetic Plastic Surgery).
Further information
Plastic surgeons interested in finding out more about using e-Stetix 3D simulations for PIP implant revision, should contact a Crisalix product specialist via email or LiveChat on the following contact page: http://www.crisalix.com/en/contact
Plastic surgery patients concerned about PIP implants should schedule a 3D implant revision by finding their nearest plastic surgeon with e-Stetix simulations using the Sublimma Surgeon finder directory.
###