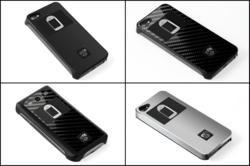 PIPA Touch is the biometric scanner our smartphones have been waiting for. When it comes to securing our digital lives, passwords just don't cut it anymore. We need something that's strong, simple, and as mobile as we are.
London, UK (PRWEB) December 04, 2012
PIPA Solutions, a leader in enterprise-level biometric security, today announced the launch of PIPA Touch: a crowdfunding project to bring strong, simple, multi-layered fingerprint security to smartphones. Backers who support the project on Indiegogo will be the first to receive PIPA's wireless biometric scanners and smartphone cases when they are produced and delivered by May 2013.
"PIPA Touch is the biometric scanner our smartphones have been waiting for," said Project Founder Sher Khan. "When it comes to securing our digital lives, passwords just don't cut it anymore. We want something as strong, simple, and as mobile as we are. We want freedom to roam."
PIPA Touch's hardware features a Bluetooth fingerprint scanner, secured by protective covers. The sensor's universal design can fit a wide variety of devices once compatible cases are manufactured. Designs available at launch to backers who pledge their support include cases for iPhone 4/4S, iPhone 5, and Samsung Galaxy S3. Seven total perks are available at launch, starting at $59. The PIPA Touch project's $100,000 funding goal will secure funding for an initial production run of about 1200 units.
"We put a lot of work and brainpower into building a strong, fun and simple solution to securing our sensitive mobile data," said Product Engineer Jonathan Lee. "Our prototype is ready for the world. We're turning to the masses to help us build an ecosystem around PIPA Touch, carrying us forward to producing the very first batch."
Once paired to a device, PIPA Touch integrates wirelessly with the default locking system, granting access via fingerprint scan. In practice, the combination of a user's unique fingerprints and hardware to securely authenticate that biometric information provides smartphones with two-factor authentication without additional effort.
"Phone unlocking is just the beginning of what PIPA Touch does," Khan said. "'Scan and you're in' may be cool enough for some, but we've designed a system to cover all the bases."
PIPA Touch's biometric scanner and software lays the foundation for its full slate of functions. You can add authorised users, create custom scan sequences for three-factor security, manage logins and passwords in the cloud, and log in to websites—automatically—across all platforms—using your fingerprints. Dubbed "Password Bank," the cloud-powered web app is a point of pride for the PIPA team.
"By taking the wireless technology built into PIPA Touch and integrating it with our cloud-hosted Password Bank, you'll be able to log in to any secure site after entering your biometric scan sequence," explains Software Engineer Peter Lamb. "Password Bank lets us create long, complex passwords for our accounts then forget them."
The engineers and developers behind PIPA see a mobile ecosystem where strong security is at odds with simplicity. Frustrated with the cumbersome solutions currently available to keep online data safe, they designed an elegant answer on their own terms.
"Smartphone users flinch at protecting their devices with strong security, despite the enormous amount of private data being stored on them," said Khan. "Many people opt for the simplicity of memorable, easily-compromised passwords over complex, multi-layered solutions that security experts advise. If you go the simple route, you're vulnerable. If you opt for strength, it's a pain. PIPA Touch is our response to a question no one answered well."
The PIPA Touch team is turning to crowdfunding platform Indiegogo to democratise their fundraising efforts and go directly to the public with their idea.
"We were really impressed by Indiegogo's partnership with Startup America earlier this year to help entrepreneurs secure crowdfunding to help make awesome ideas real," recalls Lee. "There's something amazing to us about making something people love and then letting the public have final say about whether you've succeeded."
PIPA Touch's commitment to crowdfunding reflects its desire to directly reach mobile users who need to lock down increasing amounts of sensitive data. The PIPA Team looks forward to building a platform and community, hand-in-hand with their backers and fans.
"Exchanging ideas and sharing a dialogue with your end-users is why we were so gung-ho on taking our project to the crowd," Khan said. "Our team can only think up so many ways to make our product great. With crowdfunding, you get to access a deep well of talent and perspectives. We can't wait to see where our supporters help us go from here."
Exceeding PIPA's funding goal will accelerate the development of open SDKs to help developers integrate PIPA with their own apps and services.
"We absolutely love what we've built, and hope the crowd will love it too," said Khan. "We want the public to be the final judge of our project. Whether they think we've built something cool enough is a question we're all stoked to get the answer to."
About PIPA Solutions
PIPA Solutions is a team of programmers and engineers who love solving complex problems with creative solutions. With over 20 years' experience in software and hardware product development for IT and Business, PIPA's biometric security technologies reflect unparalleled strength and simplicity that is trusted worldwide.
###